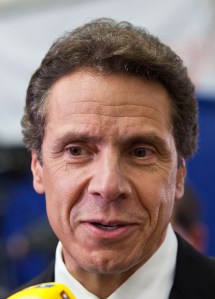 In recent weeks, Governor Andrew Cuomo faced some quiet grumblings over his perceived unwillingness to help the presidential ticket, but countering that narrative this morning, Mr. Cuomo announced his plans to campaign in swing states for President Barack Obama–although he's not sure where yet.
"My position is very simple. I'm 100 percent supportive of the president, I'll help any way I can," Mr. Cuomo said on Fred Dicker's radio show. "They asked me to do surrogate work in other states, I'll do whatever they ask me to do."
However, the governor, who only rarely travels outside of New York State's borders, expressed concerned that any work he does for Mr. Obama's campaign would be interpreted through a political lens.
"But I don't want to step over a potential line of well, 'Cuomo's looking to run in 2016,' you know," he continued, adding he's "very aware" that people discuss his own possible White House ambitions in 2016. "It hurts me as governor. If you politicize me, you cast aspersions on my motivations and intent. You suggest I have my own political agenda for doing things, you would hurt my capacity and ability to serve as governor and I just won't allow that to happen."
Mr. Cuomo also had a message for members of the press who want to interpret his campaign work in this fashion.
"So, I want to make it clear what I'm doing what I'm doing as a surrogate, responsible surrogate, for President Obama," he said. "I understand the fascination with the press and I understand how they love to do the political speculation, because otherwise they'd have to write a substantive policy story, which would be too fatiguing. But I don't want to play into any of those speculations."
In his back-and-forth with Mr. Dicker, Mr. Cuomo also said his surprise presence on the media filing room floor last week was due to the Obama campaign's request, while dismissing the "silly" media frenzy he entered .
"In many, many ways of it it, it's silly. Both sides come in, both sides claim their person won 100%," he declared, and discussing the tall signs given to demarcate official surrogates, he said, "It's part of the theater, it's not even the pretense of authenticity!"