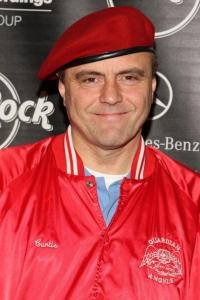 Councilwoman Melinda Katz formally kicked off her campaign for Queens Borough President last night, and in attendance among the Democratic pols and donors was her boyfriend, Curtis Sliwa, the outspoken radio show host and television personality, dressed in his customary Guardian Angels uniform and red beret. Since he has a rather unique relationship with Ms. Katz, we thought to ask him about his role in her campaign.
"I've been assigned to do everything, which means I'm good at nothing. Which means, 'Stay out of the way Curtis, don't embarrass me in front of my fellow Democrats,'" he answered. "I would say, based on my many statements throughout the years about Democrats, I've had to be extraordinarily careful when, all of a sudden, I come eyeball-to-eyeball with someone who's eye-fornicating me for something I've said for six years ago and I've got to suck it up, when normally I'd never suck it up. But for the good of the campaign, I've got to suck it up."
Addressing why he needs Ms. Katz to win, Mr. Sliwa cited both his desire to avoid homelessness and his two children with the aspiring borough president.
"Look, I don't want to have to take out a timeshare on a bench in Cunningham Park, either I get out there and campaign and do some heavy lifting or I'm going to be sleeping on a park bench here in Queens," he replied. "More than a formal endorsement, remember I have two kids at stake here! If I want to see my kids I better be out there doing lit-drops, knocking on doors. You know, I have an influence with some people, I can just stare and glare at them and say, 'You want to vote for Melinda, right?'"
Before departing, Politicker made sure to ask Mr. Sliwa when we might hear wedding bells.
"Well, I'm dealing with a very independent and autonomous woman, so I have to wait for the right time when I've earned brownie points and been a good boy, and maybe when I pop the question, she'll say 'yes,'" he mused.
As to whether that time might come before Election Day in 2013, he said, "That's a lot of Cracker Jack I got to eat between now and then, trying to hope I get a ring in one of those boxes."