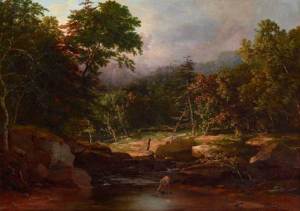 The Dallas Museum of Art has announced that it has reattributed a landscape painting, which has been in the museum's collection since 1931, to the celebrated American landscape artist George Inness. At the time the painting, then titled In the Woods, was given to the museum, it was thought to be the work of Asher B. Durand, a leader of the Hudson River school of painting.
The discovery is the result of some careful sleuthing by Sue Canterbury, a curator of American art at the museum, who suspected, after careful examination of "the spatial organization and the techniques" (as per a statement issued by the museum), that the painting was not the work of Durand but was rather the work of Inness. When Canterbury stumbled on a pen and ink drawing from the Princeton University Art Museum that bore similar essential compositional elements to the painting at the DMA, like an eye-grabbing trapezoidal rock at the dead-center of the work, her suspicions were confirmed.
The work was then analyzed by Michael Quick, the author of George Inness's 2007 catalogue raisonné and a former curator of American art at the Los Angeles County Museum of Art. After inspecting some high-resolution images of the work, Mr. Quick confirmed that it was an autograph work by Inness, completed around 1850 when the artist did many of his Berkshire landscapes.
The painting has also been renamed to Stream in the Mountains to hew more closely to the titles that Inness gave his works at that point in his career.
"The confirmation that Stream in the Mountains is by the influential American landscape painter George Inness is a major discovery, and this exciting moment underscores the Museum's focus on curatorial research in support of our mission," said Maxwell L. Anderson, the director of the DMA. "This magnificent early work by Inness joins four additional paintings in the DMA's collection that stem from the artist's late career and, thus, will allow us to present visitors with a fuller understanding of the stylistic development of this superb American painter."