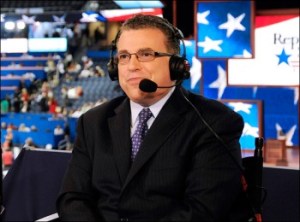 David Chalian has been named the VP of Video Programming at Politico. In August, Mr. Chalian was fired from Yahoo! News, where he was the Washington Bureau Chief, after he was caught making a racial joke against Mitt Romney on hot mic during the Republican Convention.
"They're not concerned at all. They're happy to have a party with black people drowning," Chalian said over a break in an ABC News/Yahoo News webcast. Mr. Chalian was referring to the fact that the Hurricaine Isaac was  hitting the Gulf Coast during the convention in Tampa. Mr. Chalian, who was quickly let go, apologized for "making an inappropriate and thoughtless joke."
John Harris, Politico's editor-in-chief, told Dylan Byers that the August incident was taken into account.
"David screwed up, admitted he screwed up and paid the price of losing his job for screwing up. He certainly would have been held accountable for the lapse in judgment had he been on the POLITICO staff at the time," Mr. Harris told Politico. "He's made clear that remark did not reflect his personal views or professional standards. This is a journalist who carries with him more than a decade of accomplishment and a well-earned reputation for fairness.
At Politico, Mr. Chalian will be part of a push to expand and develop video content.
"His mission at POLITICO is simple: build on the tremendous success of our video team and POLITICO LIVE shows. The production quality and content of our videos, the graphics and marketing efforts are second to none. It will be David's mandate to take a winning product and take it to the next level as POLITICO continues to innovate across existing and new platforms," Politico C.O.O. Kim Kingsley wrote in an internal memo.
POLITICO's work in video and TV programming is a huge success story of this election cycle. Thanks to the heroic efforts of Sara Olson, Matt Sobocinski, Julio Negron, Alexander Trowbridge, Madeline Marshall, Carrie Stevenson, Olivia Petersen, Jacqueline Corba and our newest addition — Senior Producer Christine Delargy — our video traffic has grown by 85 percent in recent months, and our live shows are generating both buzz and acclaim.

We are thrilled to announce that we're taking the next step: David Chalian will join us this month as Vice President of Video Programming to guide our expanding video efforts.

David is a well-known talent and a well-respected figure among many people in our newsroom. He's a political expert with a long and distinguished career as an innovator and a producer of must-watch political programming, and he's a journalist with a deep understanding of politics and source networks that go deep into both major parties.

His mission at POLITICO is simple: build on the tremendous success of our video team and POLITICO LIVE shows. The production quality and content of our videos, the graphics and marketing efforts are second to none. It will be David's mandate to take a winning product and take it to the next level as POLITICO continues to innovate across existing and new platforms.

David most recently served as the Washington Bureau Chief for Yahoo! News, where he directed its political coverage across the entire Yahoo! Media Network. In addition to campaign politics, he managed editorial coverage of the White House, Congress and the Supreme Court.

Prior to joining Yahoo! News, David was the political editor for PBS NewsHour, where he guided all of the political coverage across the program's broadcast and digital platforms. He also served as an on-camera political analyst, appeared in regular political webcasts on the Online NewsHour and co-authored the NewsHour's daily political newsletter.

Prior to joining the NewsHour, David was the political director for ABC News, where he helped oversee the editorial content of all political news across ABC News's broadcasts and platforms. He created and co-anchored "Top Line," a daily political webcast on ABCNews.com and on ABC News Now, the network's 24-hour digital outlet.

David won an Emmy Award as part of the team that produced ABC News's inaugural coverage in January 2009 and prior to joining ABC News, he produced "Inside City Hall," a widely acclaimed nightly political program for NY1 News.

Please join us in welcoming David to the POLITICO team.

Kim