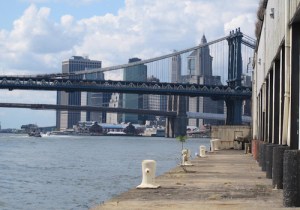 The final piece in the continuous green ribbon that has wound its way around the Lower East Side is one step closer to realization with the imminent rehabilitation of Pier 42. A once lonely pier that, along with it's now empty behemoth of a banana warehouse, that is slated to become a waterfront park after $14 million of work.
The pier was toured yesterday by an excited State Senator Daniel Squadron and William Castro, the Manhattan Borough Commissioner of the Parks Department.
"Pier 42 is no longer just an idea. It's becoming a reality," Mr. Squadron said. "From the interim uses we've planned, to the park that will be designed in collaboration with the community, Pier 42 will finally provide the Lower East Side with much-needed open space. And by connecting Lower Manhattan's waterfront parks, it will create a continuous green ribbon and move us a big step closer to a world-class Harbor Park—a central park for the center of our City, bringing together the Manhattan and Brooklyn waterfronts with Governors Island."
Last November, Senators Schumer and Squadron announced that they, in an agreement between the Lower Manhattan Development Corporation (LMDC), Port Authority of New York and New Jersey, and the City of New York, had secured funding for the site using a portion of the $20.4 billion alloted to Lower Manhattan following the events of September 11th.  Now they've finally started the design process, signing on landscape architects Mathews Nielsen, the same firm responsibly for the restful Fulton landing pier beneath the Brooklyn Bridge.
Though so far the plans for any interim uses are pretty loose.  There is the promising but somewhat distant Waterfront Community Day on November 3rd, sponsored by, among others, the Hester Street Collaborative. To be fair, there are still some missing pieces in this jigsaw. For one, a fence at the end of the north end of the pier to protect a wandering soul from the waters edge and, well, grass—but these things, we are told, will come.
In the meantime an inquisitive public can learn more details about the project, and add their two cents, at the Community Board 3 meeting this Thursday. Held at the Hamilton Fish Recreation Center, the meeting will cover proposals for the space.