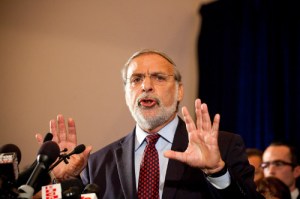 Assemblyman Dov Hikind, who frequently crosses party lines to endorse Republican candidates for office, is taking his support for Mitt Romney's presidential bid to the next level. Indeed, later this week, Mr. Hikind will hit the campaign trail in the biggest swing state, Florida, in an attempt to help deliver the critical Sunshine State into Mr. Romney's column, according to the Jewish political blog Gestetner Updates.
Mr. Hikind, a prominent player in New York's Orthodox Jewish community, obviously hopes to convince Florida's sizable population of Jewish voters President Barack Obama isn't the wrong choice for them. If Mr. Hikind's past statements on the presidential race are any indication, this will likely involve a pitch based on foreign policy.
"Israel is under the gun. Israel is the target of Iran. Israel's existence is being threatened. And Obama doesn't have time to meet with the Israeli PM? It's insulting. It's degrading. This president scares me," Mr. Hikind said last month to explain his support for Mr. Romney. "I'm a Democrat but not a knee-jerk Democrat. I'm only loyal to America and the survival of Israel."
This close to Election Day, taking time off from the New York campaign trail would be a poor decision for most of New York's  elected officials. However, Mr. Hikind only faces nominal opposition from Moshe Tischler on an independently-created line. Mr. Hikind beat Mr. Tischler by 70% during the September 13th Democratic primary.