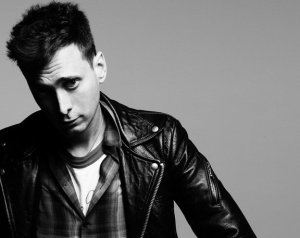 There's a simmering fashion feud percolating between New York Times fashion critic Cathy Horyn and Hedi Slimane, the designer who has taken over Yves Saint Laurent and is widely credited with Dior Homme's skinny silhouette. The beef led to Ms. Horyn not being invited to the YSL show, which didn't stop her from reviewing it in The New York Times on the Runway blog using publicly available photos. Needless to say, her take wasn't overwhelmingly positive.
"I was not invited. Despite positive reviews of his early YSL and Dior collections, as well as a profile, Mr. Slimane objected bitterly to a review I wrote in 2004—not about him but Raf Simons," wrote Ms. Horyn.
As best we can tell, the deliberate non-invitation was a result of Ms. Horyn's doubts about the origins of the skinny-silhouetted suit.
"Mr. Slimane insisted that he was the first to show the skinny suit," Ms. Horyn wrote. "It was a silly debate. Who cares?"
Mr. Slimane punched back–on Twitter, naturally–with a twitpic mock-up in faux Times font labeled "MY OWN TIMES."
Under a headline reading, "Miss Cathy, Freedom of the Press," Mr. Slimane called the critic "a schoolyard bully and also a little bit of a standup comedian."
"Insiders argue that she is an average writer and a bit provincial, but I disagree, she did some great things," wrote Mr. Slimane.
The French designer's rant is best read in a French accent.
"In conclusion, and as far as I'm concerned, she will never get a seat at Saint Laurent, but might get 2 for 1 at Dior." Burn!
This is not the first time that designers have questioned the notoriously harsh fashion critic. Last month, Oscar De La Renta took out an advertisement in Women's Wear Daily to object to Ms. Horyn calling him a "hot dog" in a mostly mild review of his Spring collection. Apparently, she didn't mean "hot dog" as an insult.
Ever a fan of cured beef products, Lady Gaga inexplicably (and perhaps inevitably) jumped into the hot dog feud with a rap where she called out Ms. Horyn and her boyfriend.