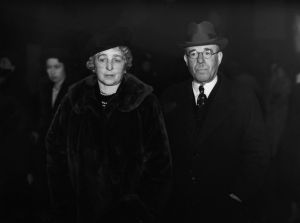 This week's New Yorker has a good article by Rachel Cohen about the premier early 20th century dealer of Old Masters, Joseph Duveen, the scholar he employed to authenticate paintings, Bernard Berenson, and their often tumultuous relationship. (The men's partnership was also recently the subject of a play.)
The two were responsible for building the collections of many of the robber barons, and there have been allegations that Berenson, who was deeply conflicted about participating in commerce (his Jewish roots closed off certain paths in academia), colluded with the dealer to change the attribution of works for their own private interests (Berenson got a cut of resale profits). However,  Ms. Cohen is skeptical of those accusations, which were delivered in a 1986 book by Colin Simpson that was published before the Duveen Brothers archive was opened to the public. Mr. Simpson reportedly had access to that archive.
From the article:
Since the archives were opened, however, material that would verify Simpson's claims has not been easy to find. The archives do contain a large volume of communications in which Berenson disappoints Duveen, sometimes very concisely, as in this early telegram: "NOT VERONESE. BERENSON." Berenson did sometimes overpraise badly repainted works in letters to clients, but he maintained a careful distinction between making a painting out to be beautiful and making it out to be a Raphael.
Among other revelations, at least to this writer, was the fact that Berenson was absolutely loaded. Ms. Cohen notes that, in today's dollars, his wealth at one point stood at around $44 million—not Gagosian-level wealth, to be sure, but not bad. If you have a New Yorker subscription, the whole article is available here.