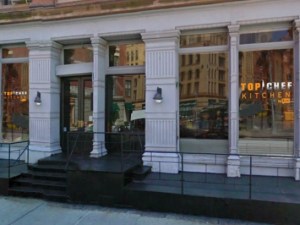 Bravo has always prided itself on its ability to foster a community for its fans. Unlike traditional television, a one-way medium, Bravo openly encourages viewers to become engaged, and it's most obvious in its mascotting of Andy Cohen (an executive who turned talent after his blog about the shows he was producing became popular and he was asked to host the first Housewives reunion) as the anti-Seacrest.
But there are other ways Bravo interacts with its fans: it has online forums and live chats with the stars of its shows, and unlike other reality programming–in which characters appear on the screen and nowhere else–Bravo essentially forces its reality stars to mingle with actual people. And it was with this concept that the Top Chef Kitchen was born.

On Tuesday evening, The Observer raced downtown, already late for our dinner at Bravo's pop-up restaurant on West Broadway. From mid-October to mid-November, the restaurant will rotate two Top Chef winners every week to design a menu for which anyone can book a reservation for a standard, four-course meal. It's $95, and that's without wine pairings. Or, as the website for the restaurant mentions, "for a super-foodie experience, there will also be a Chef's Table, which will boast an eight-course tasting menu with wine pairings and the chance to be up close and personal with the Chef'testants." (The network also tries to distinguish its stars from reality-show stereotypes by branding them with awkward titles like "Bravolebrities," "Chef-testants," and "Housewives.")
Entering into the red, glowing leviathan of the Tribeca restaurant, we couldn't help noting that the space has a TV history already–its last incarnation was Iron Chef Aarón Sanchez's Mexican eatery, Centrico.
"Oh, we had to totally gut the place, " one of Bravo's extremely BFF-friendly PR ladies told us, crinkling up her nose slighty at the thought. "It was a mess when we got it. We had to totally rip everything out, add new lighting, furniture, redecorate, redo the plumbing, the floors … everything."
"So it cost a lot to redo the place as a Top Chef kichen?" we asked.
"Ha, you wouldn't believe."
"But the restaurant will only be open for four more weeks? And then what?"
She wasn't sure, but she had to go say hi to someone else now.
Every table occupied by the press (some regular people had made reservations as well) had a little Bravolebrity of its own. Our group, which consisted of a Page Six reporter, a writer for Mashable and his female friend, was headed up by Ben Huh, the creator of I Can Has Cheezeburger and its various meme sites, which raised $30 million in venture funding last April. He is the latest Bravolebrity, with a show about the Cheezeburger offices in Seattle, LOLWORK, premiering November 7.
"I was the first person to use the term 'internet culture,'" he told us.
"But mainly you make macro images of FAILS and cats," we said. "How do you make a show around that?"
Apparently the answer was that it would be a drama-free reality show, which makes about as much sense as pouring money into a restaurant whose purpose was to serve as a five-week synergistic branding of a popular TV series.
Our chefs that evening were Tiffany Derry and Paul Qui, who both came by the table to say hi, along with Mr. Bravo himself, Andy Cohen. Another PR rep had to explain to us that Mr. Qui, who had won Top Chef: Texas, wasn't a top chef of just Texas, but that the "cycles" moved from city to city.
"Like Real World?" we asked.
"Yeah, like Real World."
Except, of course, that Top Chef is a reality meritocracy, which means that it is ostensibly more highbrow than Housewives or Miss Advised or Gallery Girls, because the people involved are talented in some arena. And even though there were no cameras filming in the restaurant ("We considered it," our first PR bestie told us,) the chefs were still keeping "score" by tallying up how of their dishes were ordered throughout the evening: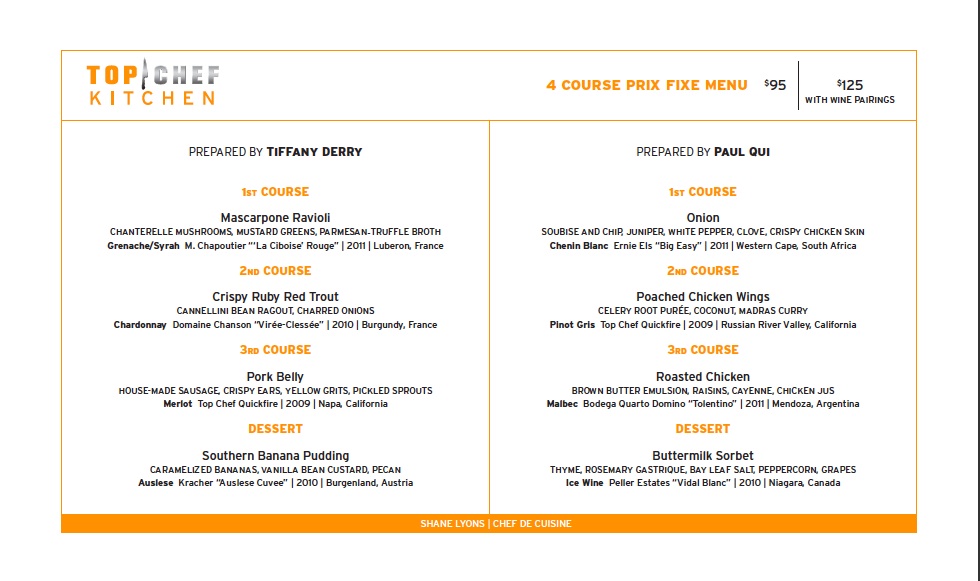 (Click to enlarge)
Although we were allowed to mix-and-match our courses from both chefs, our waitress timidly informed us that Mr. Qui really thought it would be best that if you picked his menu, you ordered everything off of it, since every course represented another stage in the life of chicken soup, or something.
Since no one really wanted to do that at our table, we started with Mr. Qui's onions, then moved to Ms. Derry's snapper, then her pork belly dish and her banana pudding. Everything was very good (especially the onions and the pudding): A++ dining, would eat there again.
But unless we hustle, we might not have a chance to.