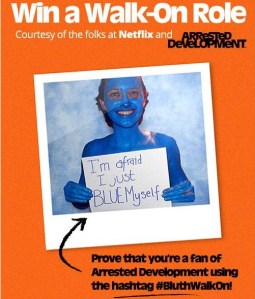 Arrested Development, the show that has lived in suspended animation for almost twice as long as it was actually on television, is coming back to life through a new Netflix season and a feature film. The rumors are true! And not only that, but you, average person who is not a film extra, now have an opportunity for a walk-on role in the show!
(Insert your favorite Arrested Development line here. Ex: "I just blue myself," "But where did the lighter fluid come from?" "Gene Parmesan!" etc.)

Here's how you enter:
Create
Show that you deserve a walk-on role by creating an original piece of Arrested Development content. Entries can be videos (less than 2 minutes), photos, artwork, essays and more.
We're looking for entries that are the most creative, unique and relevant to the show.
Share
Post your entry on Instagram, Tumblr or Twitter with the hashtag #BluthWalkOn by October 16th to enter. Or enter using this form.
Walk On

Six fans will be selected to win a trip to LA to visit the set of Arrested Development.
*Must be 18 or older and a resident of the U.S. (excluding AK and HI) to win. Contest ends October 16th.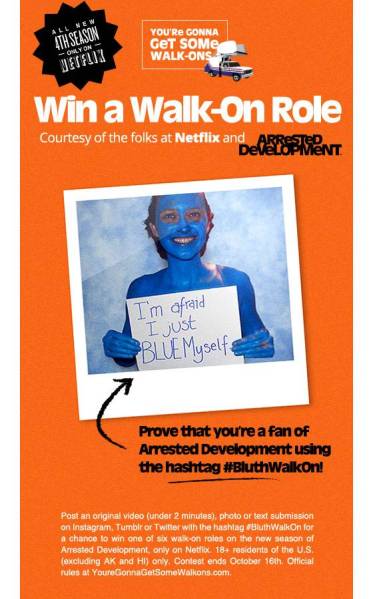 Yikes. Or, you could just go down to Central Casting and try to get yourself a walk-on without begging all your friends to "heart" the Instagram photo of you in your jean shorts and blue body paint.
Just a thought.