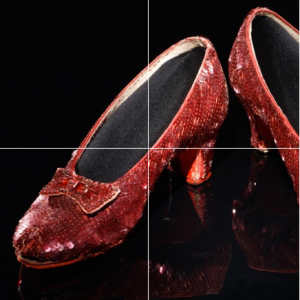 Dorothy's original ruby slippers from The Wizard of Oz (1939) will be making their first trip out of the U.S. But rather than landing in Munchkinland, the pair, which are being loaned by the Smithsonian's National Museum of American History, are headed to the Victoria and Albert Museum in London where they'll be presented at "Hollywood Costume." Opening Oct. 20, the exhibition plumbs cinematic history to examine how costume design has influenced storytelling.
The loan of the red shoes, one of four pairs in existence, came as a boon to senior guest curator Deborah Nadoolman Landis, who had been in negotiations with private owners in an effort to secure a pair.
This particular pair was taken out of the basement of MGM's storage in 1970 and sold at auction for $15,000, then bequeathed in 1979 to the Smithsonian's National Museum of American History, where they're almost always on display. Currently, you can see them in the show "American Stories."
Just to give you an idea of the value of these dazzlers, one pair (not the ones owned by the Smithsonian) sold at auction in 2000 for $666,000. Another pair were stolen from the Judy Garland Museum in Minnesota and are missing to this day.
They'll be on loan for the first four weeks of the show and then back to the Smithsonian. As Dorothy said, there's no place like home.