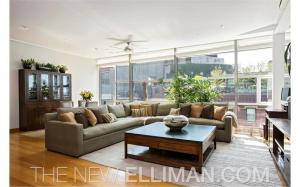 As a broker, it must be hard to stay in love with just one apartment. Every day, you see so many stunning views, so many living rooms that flow gracefully into open chef's kitchens, so many spa deep soaking tubs and rain showers. It must be especially difficult when you have two brokers living under the same roof, like Raphael and Claudine De Niro, who've shared a Soho loft since 2009.
Indeed, something else has must have caught the couple's wandering eyes, as they're leaving their three-bedroom, 2.5-bath loft at 497 Greenwich Street. City records show that the couple sold their seventh-floor spread to Alexander Lasry for $3.45 million. Not bad considering that the De Niros paid $2.9 million, but we'd expect no less from a pair of brokers (it was listed at $3.7 million).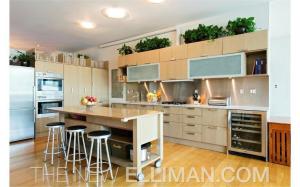 In fact, the entire De Niro clan has been keen to offload real estate recently. Raphael's pa Robert sold his West Village townhouse for $9.5 million this July. (Raphael brokered the deal, of course). City records don't show any new buys under the name of De Niro pere or fils, but we assume the clan isn't packing it in altogether.
But what of the De Niros' poor jilted loft, listed with Mr. De Niro's Douglas Elliman colleague Sara Dai? What were its shortcomings? How did it fail to live up to the De Niros' expectations?
It couldn't have been the architect, as the apartment was the work of Dutch luminary Winka Dubbledam. And it couldn't have been size. At 2,541 square feet, the condo offered plenty of room to stretch out, as well as a private balcony and terrace and oversized floor-to-ceiling windows to keep the occupants from feeling cooped up. The bathroom was likewise blameless, being both "massive" and "spa-like" and featuring dual sinks and an air-jet Jacuzzi bathtub.
The worst thing that you could say about the place is that it looks almost too unobjectionable, too blandly perfect. Maybe the De Niros fell in love with something more unusual, or more unpredictable, or most likely, bigger, better and, most importantly, more expensive—something befitting a former rising star in the world of residential real estate, a man who is now at the top.
kvelsey@observer.com