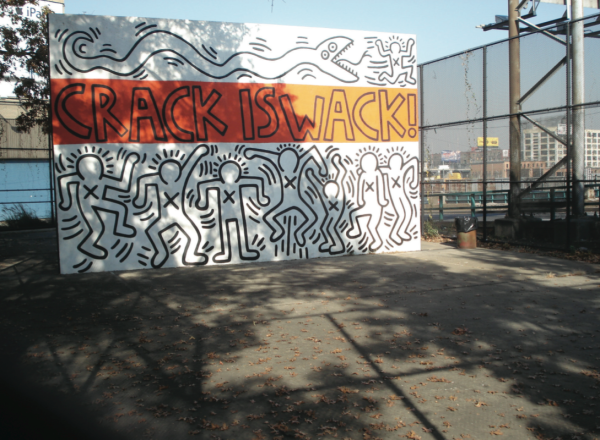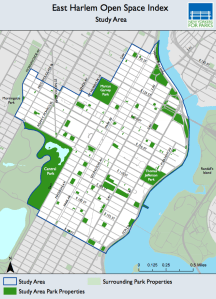 Standing at the corner of 125th Street and 2nd Avenue, no one would ever guess that this was the gateway to one of East Harlem's greatest open space assets. Even on a warm fall day, with the sun shining on the intersection, it is an inhospitable place for man or beast. Sedans, delivery trucks, minivans, gypsy cabs, 18-wheelers, what seems like half the vehicles in Manhattan rush by, honking and screeching, onto the Triborough Bridge. There is no signage, no walkways, no foliage directing—certainly not inviting—pedestrians across the bridge and onto Randalls Island.
The 265-acre landmass nestled between the South Bronx, East Harlem and Astoria is a wonderland of ball fields, tennis courts, venues, picnic areas and rolling lawns. It is, after the just-as-close, just-as-far northern end of Central Park, about the best parkland available to residents of East Harlem. Yet geographic and, more importantly, infrastructural impediments have made Randalls Island all but inaccessible for a low-income community desperately in need of open space.
"Just look at this tangle of roads," Alyson Beha, director of research planning and policy for New Yorkers for Parks, said during a recent tour of East Harlem's open space. "There are these large recreational facilities that border East Harlem, but it can be very difficult in terms of people being able to access them. We've got some real wayfinding issues."
It is well known that East Harlem has some of the lowest levels of parkland per resident in the city, as might be expected in a dense, under-served neighborhood. A new year-long study of the area by New Yorkers for Parks only illustrates how barren East Harlem really is—while also revealing a number of unexpected oases that provide a respite for locals who otherwise have few options when it comes to outdoor recreation and relaxation.
All told, the area has a little less than half as much open space as New Yorkers for Parks recommends, according to the nonprofit's Open Space Index. The index suggests at least 2.5 acre per 1,000 residents. East Harlem has 1.2 acres per 1,000 residents. Passive open space, where residents would relax, walk, sit and talk, fairs somewhat better than active open space, for running and playing. The neighborhood has 122 acres of passive spaces, which come out to about 60 percent of the recommended amount for its population. This is compared to 40 acres of active spaces, which is 30 percent the recommended amount for the area.
"This community, like many in New York City lacks crucial open space resources," Holly Leicht, New Yorkers for Parks executive director, said in a phone interview.
But Harlem's legacy of civic bureaucracy and neglect has actually created a few positive features for the neighborhood, as the community has turned trouble spots into amenities. East Harlem has long been home to the city's public housing developments—East River Houses was one of the very first projects developed by Mayor LaGuardia and the WPA. While people may complain about the look and feel of the projects, they do have a wealth of amenities, including playgrounds, basketball courts and community centers.
New Yorkers for Parks recommends 1 play area per 1,250 children in a neighborhood. East Harlem has 5.4. The group suggests 5 athletic courts per 10,000 residents. East Harlem averages 8.4. Less impressive, but still beating the mean, are athletic fields, at 2.1 per 10,000 residents in East Harlem, compared to a recommended 1.5.
"NYCHA presents us with a real opportunity, because a lot of these resources are built in, but it is not always the most safe or inviting space, so we have to work on opening them up without alienating residents, which we also don't want to do," Ms. Leicht said.
An even bigger renaissance story is that of community gardens. The disinvestment and dereliction that came to East Harlem, like so many other corners of the city, led to burned out buildings and vacant lots across the neighborhood. Residents capitalized on all this new open space, creating one of the most vibrant networks of community gardens in the city. East Harlem boasts 39, which averages out to 2.7 gardens per 10,000 residents, nearly three times New Yorkers for Parks' recommended amount.