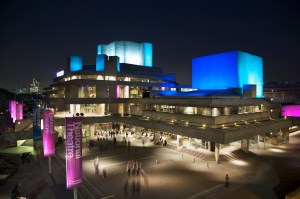 London's National Theater Theatre is to open an office in New York later this month. The last two productions to make the transatlantic transfer have proved to be hits on both sides of the pond, with One Man Two Guvnors and War Horse scooping six Tony's between them. It is this commercial success that has spawned the New York office, with The National's former assistant producer Tim Levy at the helm of the venture. "We wanted to be more in control of our own projects over here but keep someone on the brand, which is why we decided to set up a permanent location for The National Theatre in the US," he explained. "The idea is to make sure we are transferring shows in the best, smartest way we can."
It's certainly a tall order for Mr. Levy, who has been based in the city for several years working as a producer with Robert Boyett Theatricals. "This job came about as a result of me wanting to work with The National again, but stay based here—it was quite a gradual process," revealed the 34 year-old. Previously, American producers would make the decision to transfer shows over to Broadway, but the new office means that creative control has been passed back to the British company.
Commercial transfers between the States and the UK are a risky business, but one that Mr. Levy believes have a great pay-off: "The exciting thing about bringing shows over here is that you never know for sure if American audiences will like them and find them funny. In One Man Two Guvnors, James [Corden, who won the Tony for best lead actor in a play] came here as a relative unknown and left as the toast of Broadway, which was thrilling." With the Manhattan office in place, it seems that more success is on the horizon for The National and its new think tank in NYC.