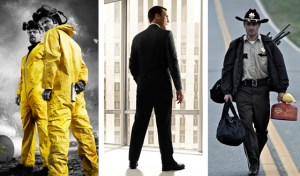 Oh happy days! After months of Dish subscribers having to go without their favorite programming from AMC, IFC, and the Sundance Channel, viewers were able to finally tune in right in time to catch the second episode of the former Cablevision subsidiary's hit zombie show, The Walking Dead.
Which begs the question: Why now?

The new deal, according to The New York Post, has Dish paying AMC Networks and Cablevision $700 million in cash (to be stored in Walter White-styled locker), and in return, AMC will let Dish show their programming.
When the threat of Dish cutting off service first came to our attention, they were getting awful close to the 11th hour mark for the premiere of the season of Mad Men.
"Don't worry, this has happened before," a colleague said, referring to Dish's continuing war-time negotiations with Cablevision. But this one was different: the premiere came and went, and Dish refused to play ball, despite the fact that in the past year, AMC Network had split from Cablevision and was now a privately owned company run by Josh Sapan.
But Breaking Bad and The Walking Dead (along with Mad Men) are the three major staples of AMC's brand network. So why fold for the zombie show instead of the one getting all the Emmys?
It's pretty simple: while Breaking Bad is critically acclaimed, its ratings high for the series premiere brought them 2.9 million viewers. For The Walking Dead season three premiere, the record for the network was shattered with an astonishing 10 million tuning into the opening. Once Dish saw how many potential eyes they could be losing, reaching a deal with AMC was a no-BRAINS!-er.