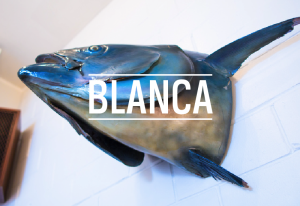 Roberta's, the popular Bushwick pizzeria/farm/radio station opened an exclusive 12-seat "tasting room" last summer. But just how exclusive is Blanca? It's so exclusive that New York Times restaurant critic Pete Wells and New York magazine's Adam Platt both began their reviews this week by explaining just how very, very hard it is to get one of the 12 seats. 
"On Oct. 1, I placed nearly 40 calls to the restaurant. They all bounced straight to voice mail, giving me some time to wonder whether there is any point in writing about a 12-seat restaurant that serves 60 people a week," Mr. Wells wrote today. "If I have trouble getting in the door three times to do my job, how many readers will manage it even once?"
Mr. Wells may wonder how his faithful readers will manage to score a table. But if they are anything like Mr. Platt, they will get help from their tech – offspring.
"When I first called for a table, a canned voice informed me that the voice-mailbox was full. When I got the same message the next week (and the week after that), I explored a few furtive, sub-rosa options ('I've failed you, Platty,' said one supposed 'friend of the chef')," Mr. Platt wrote. "When those dried up, I handed the task over to my daughter, who discovered (on the website that Dad had ceased checking long ago) that Blanca would take reservations by phone on the first day of each month for dates 7 to 30 days hence. 'Okay, Dad, you're all set,' she said after a few minutes of speed dialing, 'but don't be late, or next month we'll have to do this all over again.'"
Both critics basically agree–the $180, 20-something-course meal is really pretty good, if a bit rough around the edges.
We wondered whether the two critics ever bumped into each other getting off the L train at the Morgan stop, but Mr. Wells heard a Dolly Parton record during his meal, while Mr. Platt listened to Frank Sinatra on the turntable. So we suppose that means they didn't cross paths.
But the real news is that neither critic wasted too much ink explaining that spending over $200 for a 20-course dinner in Bushwick (or East Williamsburg, we lost track of what we are calling the neighborhood now) is the new normal.