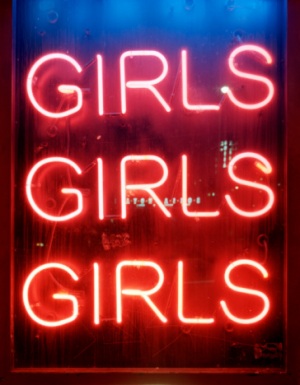 It can be hard to pinpoint the moment when a neighborhood passes from one phase of gentrification to the next—was it the wine bar that opened on the corner, the coffee shop that only served espresso, the French language pre-school? But the West Village, whose change has been a source of constant hand wringing for at least the last two decades, has undoubtedly crossed a new threshold: the gentrification of even the XXX establishments.
The Villager reports that the new owner of a seedy 24-hour adult video store at Clarkson and West Streets is looking to revamp the space into a high-end topless bar for an upscale audience. The new place will reportedly be "classy." Or at least way classier than a XXX video store with a naked dancer on duty in the back. In fact, the owner is so serious about turning the space into a sophisticated establishment for gentlemen (and are not all men who visit such establishments gentlemen?) that he has ended the naked lady's gyrations.
The club would, for example, have a $20 cover charge and a dress code. The dancers would be topless, not totally nude, in compliance with New York's liquor license requirements, which prohibit alcohol consumption in the presence of fully nude dancers.
And while the club would have a stripper pole, the owner stressed to The Villager that it would be a "satellite pole" off in a corner, not on the main stage. And lap dances would be done 3 feet away from patrons, with no groping allowed.
Even classier? The sign's name—Platinum—which would not be lit up on one of those trashy illuminated signs, but painted "in a classy way, not in a graffiti way—an artisty way," he told The Villager.
What's next? Burlesque? Cabaret-style topless performances that can taken in while sipping signature cocktails? It hasn't come to that yet, thank god. If the owner is stymied from opening his tasteful topless bar, he says he's going to open a fully nude dance club.
kvelsey@observer.com