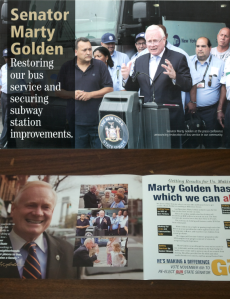 Senator Marty Golden is being criticized by his Democratic opponent, Andrew Gounardes, for producing taxpayer-funded informational literature that looks similar to his campaign-funded political mailers. We reached out to Mr. Gounardes' campaign for examples of this, which you can find on the left. They pointed to the same photographs being used in both pieces.
The Conservative Party, whose chairman once called Democratic former Councilman Simcha Felder "closeted liberal who endorsed Barack Obama and raised your taxes on the City Council," has officially endorsed his state senate campaign after his write-in primary victory.
Meanwhile, Mr. Felder's opponent, incumbent GOP Senator David Storobin, spent part of last weekend campaigning on the boardwalk with Brooklyn welterweight contender Dmitriy "Star of David" Salita.
Senator Kirsten Gillibrand, who's dominant in her electoral position against Republican challenger Wendy Long, apparently isn't phoning the race in completely. Although Ms. Gillibrand rarely even mentions Ms. Long's name, she's dumping gobs of cash on positive ads to maximize her November 6th margin.
Okay, the GOP mayoral primary between George McDonald and Tom Allon is going to be a circus:
"Is it Allon? I don't even know how to pronounce his name," Mr. McDonald replied. "Maybe that's why he's polling at 1%, which shows what a good job he's doing."

Later Mr. McDonald explained, "I asked my friend recently how to pronounce it, and they said, 'Alone.'"

"Is is All-EHN?" Mr. McDonald added, giving it a French twist. "I have never met the man, but thank you for telling me how to pronounce his name."
Here's video footage of Mr. Allon's announcement this morning, courtesy of Capital New York:
[youtube http://www.youtube.com/watch?v=bnfPv-gs2No]