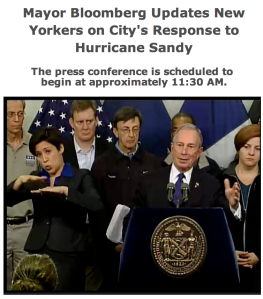 For those confused by the complicated subway service schedule set to resume tomorrow, Gawker provided a handy map. The official one may be slightly more useful, however.
Lydia Callis, the extremely effusive sign language interpreter for most of Mayor Michael Bloomberg's press conferences on Hurricane Sandy, has recently been profiled by the New York Times, DNAinfo and more. But really, you should just check out this Tumblr.
According to a pool report, President Barack Obama told the State of New Jersey, "The main message I wanted to send is the entire country has been watching what's been happening. Everybody knows how hard Jersey's been hit." A man yelled out in response, "Except my boss!" Mr. Obama added, "Well, except your boss. If you need me to call, you let me know."
The Jewish Voice endorsed a number of Republican candidates, including Mitt Romney, Senator Marty Golden, Senator David Storobin, and Councilman Eric Ulrich's campaign for the State Senate.
In today's widely-read weekend edition of Hamodia, Mr. Storobin's opponent Simcha Felder had not one, but two ads. Meanwhile, Mr. Storobin had an "advertorial."
Rep. Louise Slaughter has a new, very dramatic ad attacking her GOP opponent, Maggie Brooks:
[youtube http://www.youtube.com/watch?v=6Aj9elyd1Vg]