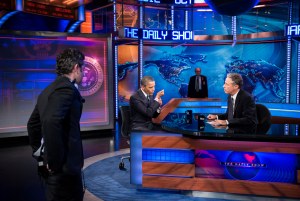 Democrat Mark Murphy has another ad out criticizing GOP Rep. Michael Grimm over his associates and controversies, but the latest leaves the specifics of the actual allegations aside in exchange for attacking the Mr. Grimm for "voting against women."
Capital New York took a trip down memory lane to President Barack Obama's 2005 appearance on The Daily Show.
Lede of the Day: "Look out, America. Here comes Andrew Cuomo!"
And, through his endorsement of GOP Senator Steve Saland, Mr. Cuomo's bringing his message of bipartisanship with him! The governor's spokesman Matt Wing explained the move by stating, "The governor believes that one of the problems in our political system is the influence of extremists on both sides of the aisle."
Across the country, of only 24 congressional candidates who out-raised the incumbent, three are running in New York: Mr. Murphy, mentioned above, as well as Maggie Brooks and Sean Patrick Maloney campaigning further Upstate. Additionally, Ms. Brooks, a Republican, and Mr. Maloney, a Democrat, were the among the crew of ten who managed to have more cash on hand at than their incumbent opponents at the end of September.
Attorney Wendy Long, campaigning uphill against Democratic Senator Kirsten Gillibrand, was not among those cheering today's DOMA decision today:
"Today's ruling is incorrect. Each state and the federal government are free, under our Constitution, to define marriage for the purposes of the law of their own jurisdictions. This ruling is proof of what I said last night in the debate: that politics or one's personal opinions should be irrelevant when a judge makes rulings from the bench. In this case, Judge Chester Straub, a Clinton appointee, was the one who faithfully applied the Constitution in dissent."
Additionally, Mr. Long was not a fan of the "Fifty Shades of Grey" question she received during last night's debate. "Frankly, I thought it was just completely bizarre," she said. "I was trying to be a good sport and everyone was laughing. But I thought it was completely bizarre and sort of sexist."