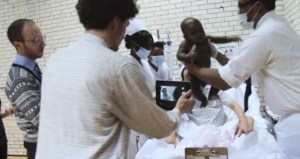 Last week, Vice.com was "tipped off" to a video purporting to show Barack Obama's birth in Mombasa, Kenya, on August 4, 1961. The 54-second clip, submitted by "Peter R." made the rounds on various conspiracy sites, but its biggest exposure was on Atlantic Wire, which questioned its validity in a headline that read "Fake Obama Birth Video Shows Fake Ann Dunham Giving Fake Birth to Fake Newborn."
No duh. And now we can prove how obviously fake the very fake-looking video is! Not only do we have the exclusive "making of" series from the actual director, Vice contributor Nimrod Kamer, but we were invited last Wednesday to go on-set (at Cosmic yoga studio in Bushwick) to witness the rebirth of our president.

Here's the original video:
[vimeo http://www.vimeo.com/52049073 w=400&h=300]
Here's the first of the "Making Of" series:
[youtube http://www.youtube.com/watch?v=VNbK1tcrO1k&w=560&h=315]
Mr. Kamer, a balding and bespeckled 27-year-old from Romania who splits his time between London and Greenpoint, was busy assembling the pieces of the birth scene when we arrived late Wednesday afternoon. "We originally wanted to get Lena Dunham to play the mom, since her last name is already Dunham," he told The Observer with his trademark dry humor. (If Mr. Kamer turns out not to be related to Denmark's Sacha Baron Cohen, gonzo documentary filmmaker Mad Brugger, in some fashion, we'd be very surprised.) The role eventually went to Kristin Goodman, who was paid $250 for her afternoon of work.
Mr. Nimrod told us he wanted the video to not look "too realistic," since he didn't want it to actually sway anyone's vote during the election. "A lot of people out there want to believe Obama was born in Kenya," he said. "We want to make fun of that idea, not feed it."
The baby playing Obama, Nicholas Nicholson, is 6 months old. He was covered in a mixture of glycerine and fake blood, with random chunky bits stuck on. His mother played a Kenyan nurse while his father, Greg, stood by. When asked why they were participating in this media hoax, Mr. Nicholson shrugged.
"We saw an ad on Craigslist, and it looked fun and it paid," he said.
The whole shoot took around an hour, as Mr. Nimrod kept up the energy by yelling inspirational sayings, like: "This place smells like blood and semen! Just like Lady Gaga's perfume!"
Mr. Nimrod, who often goes out to "prank" stars (he told us he once convinced Kanye West that he could erase all the bad things people were saying about the rap star on Twitter … for a price), and his goal here was to get a high-rolling birther to pay $10K for the footage.
From Mr. Nimrod's original email, entitled "Birth Synopsis":
Giving Rightwing-Media Fake Birth Footage They Always Dreamed Of
Tea-party and birther bloggers, as well as rightwing pundits, Fox News affiliates and people like Arizona Sheriff Joe Arpaio and Dr. Jerome Corsi [2], are convinced Obama was born in Kenya and desperately looking for proof, any visual clip to "end the discussion" once and for all.

If Obama was born in Kenya he cannot be president. They refuse to believe a birth certificate Obama provided in a 2011 white house press conference [3] is real. In Arizona they tried to put O off the ballot until they get further docs from Hawaii (real birth place).

So – we want to give them the evidence, and embarrass them later, right before the election, showing how they fell for it.

Our footage will be easy to prove as a spoof, as it will include incriminating pieces linking it to Nimrod (Nimrod will be holding a super16mm camera pointing it to an iPhone Hipstamatic app visible in the making-of film), and to VICE, also a Gawker reporter will be witness. [Editor's note: No Gawker writer was there, and we were the only media outlet in the room.]

And – the mother actress will be a known person.

How?

We set up a hospital-like room (or film in real hospital) see attached photos. Silent film. (Obviously the making-of film won't be silent).

16mm clip will follow Obama Senior filming (Ann Dunham, Obama's mom) giving birth. He stays on her for 30sec then moves on. Her name is clearly visible on bedside. Black nurses surround her, Kenyan flags, 1961 calendar.

A birth certificate will not be shown. Its too explicit. We *will* show a Kenyan newspaper (The Kenyan Standard, founded 1902 [4]) to establish date, and a clock with the date on it and\or calender thing.

As we edit 16mm footage we'll spread through friends on reddit.com, quietly, and go to small-time rightwing bloggers, interviewing them generally, and mentioning off-the-cuff that there *is* this footage they might want to look at.
We'll see how far he got with the footage in Part Two, but our prediction? Not very.