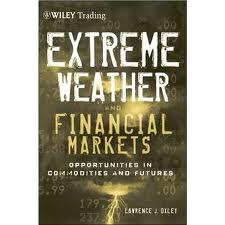 Larry Oxley was scheduled to appear this afternoon on Bloomberg Television to discuss his recent book, Extreme Weather and Financial Markets. As late as Friday, when The Observer spoke to the author, it seemed like perfect timing. The eyes of the nation were turned to Hurricane Sandy, and Mr. Oxley was slated to tell investors how to profit.
But events have consequences, as Mr. Oxley would be the first to aver, and as the storm developed, one consequence was that local governments closed roads and public transportation. When The Observer spoke to him this morning, he was stuck at home in Monmouth County, N.J., emailing television producers about whether to phone in today's interview, or just reschedule.
"It's almost hilarious," Mr. Oxley told us today. "But the beauty of extreme weather investing is that you don't necessarily have to be in ahead of the event. You can play the opportunity as it unfolds."
Mr. Oxley, a director of global credit research at MetLife, likened extreme weather investing to an explosion. The latter needs a fuel source, oxygen and an ignition. The former needs a weather event, a high concentration of commodities that can be affected and corresponding financial instrument.
Natural gas was a famous hurricane play when Katrina blasted the Gulf of Mexico, Mr. Oxley told us. Refineries were damaged in the storm, diminishing gas supplies, increasing prices and causing the stocks of companies like Chesapeake Energy and Southwest Gas to rise.
More recently, Mr. Oxley bought shares of a fertilizer producer called CF Industries after meteorologists predicted last year's dry winter would lead to a dry summer. Fertilizer prices soared and the stock rose. On the other side of the trade, Sanderson Farms, a chicken producer exposed to the fluctuations of feed prices, fell sharply as corn prices rose.
"If you're really tuned into it, it's almost shockingly easy," he said. "Last year, we had a nice warm winter, and the price of natural gas took a nose dive. You might say to yourself, 'That was really unusual. The price of natural gas is probably going to rally up again.' That's exactly what happened—it was almost like a gift."
Mr. Oxley was trained as an engineer, and visited mining operations on six continents, gaining an appreciation for the concentration of certain commodities and vulnerabilities to supply disruptions. After making a career change to investing, he kept an eye out for opportunities along those lines.
During the snowy winter of 2010-'11, Mr. Oxley was out shoveling his driveway in Monmouth County, N.J. when the idea struck him: "I guarantee the salt maker stocks are going up," he said to himself. Then: "I have to write this book before someone else does."
As for how to trade the Frankenstorm, Mr. Oxley suggested looking beyond storm surges along the Atlantic coast and to forecasts for snowfall in neighboring mountain regions. While oil refineries in the Delaware Bay could be affected by the storm, he said, the concentration isn't great enough to make gas a slam-dunk play. But if early snow this year harkens a wetter winter, a company such as Compass Minerals that derives significant revenue from rock salt might be in line for increased profits.
Of course, that begged the question: With U.S. markets closed today in anticipation of the worsening storm, how can individual investors take a position?
"It's not a bad thing," Mr. Oxley told us. "You can wait and see how this thing develops."