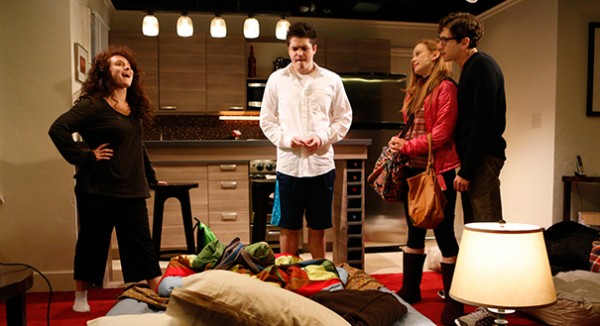 The actress Tracee Chimo—brassy, ballsy, dominating—is a force to be reckoned with in any role. But turn her into a big-haired, big-mouthed, know-it-all Jewish girl—one with a chip on her shoulder, a few years at Vassar and a Birthright-induced fervor for Israel (you know the type)—and she is nearly unstoppable.
This is the inspired casting choice in director Daniel Aukin's intense, engaging premiere production of Joshua Harmon's modest but taut Bad Jews, which was scheduled to open last night in a Roundabout Underground production. Ms. Chimo's Daphna Feygenbaum—called Diana in her suburban youth—spends the 90-minute play stalking the cramped studio apartment of a set, climbing on furniture, readjusting her clothes, smoothing her hair, noshing and wrapping up and cleaning. She is an animal on the hunt, and this is her lair. She is feral.
Her would-be prey is her cousin, Liam Haber, whose parents own this pied-à-terre for guests, just down the hall from their own apartment on Riverside Drive. (There's a view of the Hudson from the studio's bathroom, and obvious class resentment between the wealthy and less wealthy relations.) Liam, as played by the intense, angular Michael Zegen, Bugsy Siegel on Boardwalk Empire, is a different sort, equally recognizable: rich, smart, selfish and entitled. While Daphna stalks, he is high-strung and coiled, eager to lash out and sting.
They've been pulled back to New York by the death of Poppy, the beloved paterfamilias who survived the Holocaust, came to America and built a prosperous family. The grandchildren—Daphna, Liam and Liam's quiet, cowed younger brother, Jonah (Philip Ettinger)—plus Liam's goyish girlfriend, Melody (Molly Ranson), are jammed into this tiny apartment because the big one down the hall is set up for shiva. The tiny adjunct apartment is a dramaturgically convenient crucible, and Poppy's chai, secreted through concentration camps, used in place of an engagement ring when Poppy had no money, proudly worn around his neck till his death, is the embodiment of the family's legacy. When Daphna and Liam fight over it, angrily and violently—Daphna sees herself as the receptacle of the family's history; Liam, the oldest grandson, sees it as his birthright, to be presented in place of a ring to his shiksa—they are fighting, essentially, over the future of American Judaism.
Thankfully, Mr. Harmon's play rises above the JCC circuit, in part thanks to its smart, sharp and funny dialogue, but also because of its complexity (and its prolix profanity). Liam, with his assimilated, Irish name—he was named for his father's prep-school friend, we learn—begins the play as its titular Bad Jew, and Daphna as its Good one. But as things progress, as each terrorizes the other, strafes the innocent bystanders, and falls more deeply into self-righteous certitude, it becomes harder to tell if either is good. Rich or not, observant or not, Israel-loving or not, they are all Bad Jews, and the play suggests we all are.
But not quite. Bad Jews displays a talented and often insightful authorial hand, if not the most delicate one, and the final scene leaves us with a much-needed, if heavy, note of uplift. I won't ruin the moment, but it turns out that, while Daphna and Liam have been destroying each other in the name of honoring Poppy, poor, repressed Jonah is actually the only mensch.
A Summer Day is a Norwegian play by a hugely successful and widely produced Norwegian playwright, Jon Fosse, and, even in the West Village—at the Cherry Lane Theatre, where it opened last week in a Rattlestick production—boy, does it feel Norwegian.
A man and woman have moved from the city to their dream house in the country. It overlooks a bay, and it is large and grand. The man is bored there. He spends much of his time out on the water in a small rowboat. The woman is sad that he spends so much time on the water, more time on the water than in the house with her. One day, while her friend is visiting, he goes out on the water and there is a storm, and he does not return. If I recall the dialogue correctly, also: water water water on the water see the water by the water down to the water water water water. Water. This is supposed to be poetic, and perhaps it is in the Norwegian. In English, it's dull and deadening.
Karen Allen, whom you will recall from Raiders of the Lost Ark and Animal House and various other delightful movies of your childhood, plays the Older Woman, who recounts this story to her Older Friend (Pamela Shaw). She is onstage throughout, either acting in her own scenes or narrating the flashback scenes—in which Younger Woman (Samantha Soule), Younger Friend (Maren Bush),  Asle (McCaleb Burnett), who dies, and The Man (Carlo Alban), who is Younger Friend's husband, live out their tragedy—or just watching. She is fantastic, drawn and poised and haunted and focused.
The simple set is lovely, the cast competent, and the direction sparse and elegant. (Sarah Cameron Sunde is the director and translator, and the sets are by John McDermott and the lights by Nicole Pearce.) There are two gorgeous moments: when Ms. Allen narrates the search for her lost husband in a hushed, bereft monologue delivered at center stage and bathed in pale, aquatic light and sound effects, and when Ms. Allen tenderly comforts Ms. Soule, the younger version of herself, just after the search is given up.
But, otherwise, the evening is, like a Scandinavian one, long, dark and unyielding.