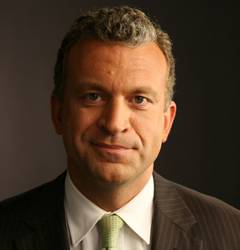 Is it really surprising that former MSNBC host Dylan Ratigan is fleeing his Tribeca loft? The political pundit and anti-Wall Street crusader was definitely a little too close for comfort to those Greedy Bastards living at 55 North Moore Street, so we're not shocked to see that he's sold it for $1.38 million.
Mr. Ratigan announced in June that he was leaving his eponymous show, a move telegraphed by what appeared to be his growing frustrations with the limitations of talking things out on cable news. Now, he's appears making an even bigger move. Either Mr. Ratigan is fleeing Manhattan, cesspool of corporate thieves that it is, or he's shopping for something a little more in line with a man of his prominence. After all, Tribeca and loft sounds impressive, but his one-bedroom was scarcely more than 1,000 square feet.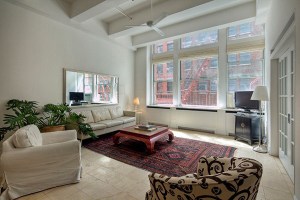 Perhaps Mr. Ratigan was just depressed walking by the Zuccotti Park and the dregs of the once-promising movement that lived there? He bought the loft for $999,999 back in 2004. With 14-foot high beamed ceilings, South-facing windows and limestone floors, we're sure it will make a lovely home for buyer Jason Tauber, even if he did pay more than the $1.32 million ask.
The spread, listed with Brown Harris Stevens broker Sophie Ravet, is right near by the Tribeca waterfront. It would seem an ideal place for healthy walks, something Mr. Ratigan is appear to be in sore need of—he told Rachel Maddow that his frustrations with the corporate welfare were such that he'd gained weight and started smoking.
And the co-op, besides the fact that is increasingly playing home to the rich and entitled—media scion Samuel I. Newhouse IV bought a loft there in 2009—has quite liberal admittance policies that allow pied-a-terres, pets and parents who want to buy for their children.
True, we still don't know what Mr. Ratigan will do next, but we can be sure that he won't be doing it from apartment 2F.
kvelsey@observer.com