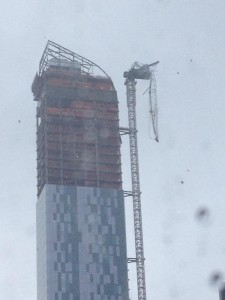 Michael Gross, the author of 740 Park among other books, lives with his wife at the Alwyn Court at 180 West 58th Street. That's not far from the dangling crane at the under-construction One57 building. Mr. Gross has posted online an image of the dangling crane, noting that "developer Gary Barnett isn't making friends in my neighborhood right now."
What is at risk? The One57 crane is across from the Metropolitan Tower, a glass-curtain building. Mr. Gross noted that there were fire trucks everywhere in sight from his window currently and that earlier this morning, he'd noted that the crane looked like a major risk and he'd hoped it was secured.
While Mr. Gross is not being evacuated, the Briarcliffe, at 171 West 57th, is; no word on the whereabouts of penthouse-dweller and leveraged-buyout billionaire Wilbur Ross.