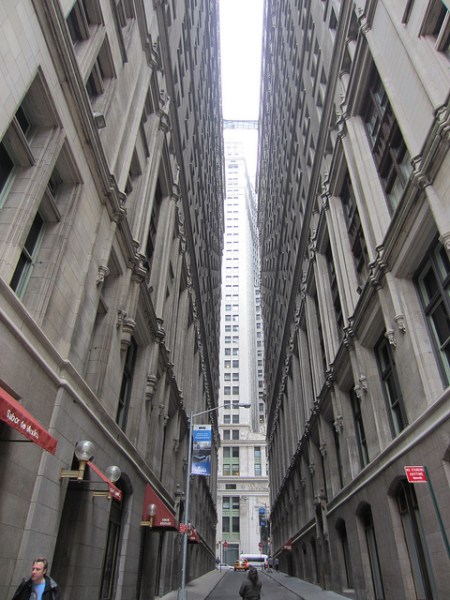 Are you sick and tired of people complaining about the crippling rents they pay? And the fact that said rents will only become more crippling in the future and most likely not be accompanied by commensurate pay raises? Downers, right? You should go hang out in the Financial District, where no one is even bothering to file some paperwork that would make their market rate apartments rent stabilized, reports The Wall Street Journal.
In a situation that is strangely befitting of the neighborhood in which they live, thousands of tenants who live  in potentially rent stabilized apartments haven't made any moves to secure the time-sensitive designation. The number who have—10!—is scarcely in the double digits. What the hell? Surely not everyone who lives in the Financial District has the cash to wallpaper their walls with $100 bills? And since when have Wall Street guys been averse to gaming the system for all that it's worth?
The eligible units exist in buildings renovated by developers after 9/11 who took advantage of a state tax credit called 421-g incentivized the conversion of office buildings into residential buildings. Two years ago a resident in one of the luxury building took his case to housing court and won, arguing that his building should always be rent-stabilized because of the tax deduction. To make their units rent stabilized, tenants would file a notice of rent overcharge or sue to have the unit converted.
Apparently, the required paperwork seems not worth the effort for the fresh-out-of-college people who work in high paying jobs and use the luxury apartments as crash pads that they generally abandon before rent stabilization would make much of a difference.
"Our area has always been quite transient. We don't want 15 college kids crashing in an apartment. We want people to hunker down and stay," Tom Goodkind, chairman of Community Board 1's housing committee told The Journal.
Poor Lower Manhattan! Overrun with tourists, but no one wants to call it home.
kvelsey@observer.com