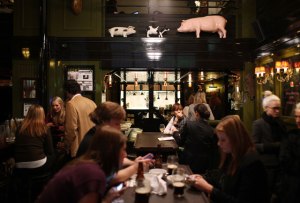 As Hurricane Sandy approaches, New Yorkers have been stocking up on packets of ramen and cans of beans, unhappily contemplating the less than appetizing meals that they'll be eating over the next few days, meals that will more than likely involve a lot of peanut butter and jelly.
But for those who can't bear the thought of lunching on crackers and tuna fish, there is hope: the subways might be down, but fine dining doesn't stop just because there's a hurricane on the way. A number of the city's best restaurants are planning to serve as usual on Monday and Tuesday, providing a ravenous public with foie gras, lobster bolognese and miso-glazed salmon.
That is, so long as Sandy doesn't obliterate Manhattan altogether.
Restaurants in hotels, backed up by generators and with a captive clientele, are the most reliable bets for finding a three-star Michelin meal during the frankenstorm. Jean-Georges, lodged securely in the Trump International Tower, has no plans to close.
"Absolutely, tomorrow we will be honoring all reservations," said maitre d' Kyle Lohr, who was presiding over a "quieter than normal" restaurant Sunday night. A hard hit from Sandy could change things, he admitted, with the limiting factor being staff—it requires quite a large one to run a three-star restaurant properly.
Jean-Georges's sister restaurant Jojo, on East 64th Street, was planning to close for lunch on Monday, but would be open for dinner.
Per Se was also open on Sunday night, with the last reservation at 9 p.m. rather than 10 p.m., but the restaurant had yet to make the call about whether to open on Monday or not.
But at least a foodie can be sure of the Breslin Bar and Dining Room at the Ace Hotel, which was open until 10:30 p.m. on Sunday night and planned to open again at 7 a.m. Monday for breakfast. Alas, the hurricane will not help fearless foodies score a reservation at Breslin's kin The Spotted Pig, which was closed Sunday night and all of Monday, much like a few other standbys of deep-pocketed foodies: Nobu, Daniel, Sandro's, Gilt and Sushi of Gari. Nor can New Yorkers comfort themselves with a huge slab of Peter Luger steak: the restaurant shut down at 5 p.m. Sunday.
Telepan on the Upper West Side was busy Sunday night, dishing out liquid courage to a crowd at the bar while workers scurried around below, clearing out its basement in case of flooding. Too bad the restaurant would not be serving any bay scallops coddled eggs come Monday. As for Tuesday, the owners planned to play it by ear.
Likewise, Gramercy denizens will have to wait and see whether Casa Mona opens on Monday after closing at 9:30 Sunday night, two and a half hours earlier than normal to allow staff to get home before the storm struck. La Sirene in Soho, which was open Sunday night, is tentatively serving Monday dinner. And Saxon + Parole in Noho also sent its staff home early, dismissing everyone who didn't live in Manhattan at 4 p.m., although the restaurant served dinner.
"As of right now, we will be open tomorrow, although that may change," said hostess Emily Erickson when The Observer called. Good news for Noho dwellers, who kept the restaurant's remaining staff on their toes Sunday night with a steady stream of walk-ins. Fortunately, the managers, who filled the serving vacancies, only had to deal with around a third of the patrons the spot would normally see on a Sunday.
At least Eleven Madison Park, which will be open for lunch and dinner on Monday and Tuesday, is a sure thing. And Tribeca's Odeon wants to be.
"Our intention is to stay open if it's safe; if we can, we will be open," said manager Dave Moody, who was busy scanning the humming eatery as we spoke.
"It's been quite busy tonight," said Mr. Moody. "And there's a really nice mood. It's like, everybody's happy, they've all done their preparations, now they're ready to relax and have some drinks together before the storm hits."
kvelsey@observer.com