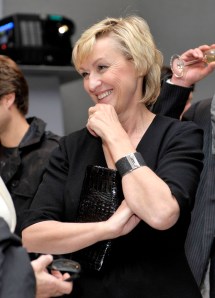 Is it happening again?
The bad time went by many names: the meltdown … the shakeout … the reckoning … the death of print… or sometimes, simply, "trying to freelance."
Old-timers can still remember it—how, amid the frozen winter of 2008, the corridors of once unshakable media empires ran red with ink as the insertion orders dried up and crumbled into dust. Aeron chairs grew wet with tears. Editors were cashiered, contract writers flung overboard like chum. Soon you could see them all over Midtown: the sleek black Town Cars sitting idle on cinder blocks, rusting in the bleak unforgiving sun.
It was terrifying. The death knell—a merciless, unrelenting Twitter feed titled "The Media Is Dying"—sounded on a daily basis, sometimes hourly. Staffers watched in fear as the ghouls of HR, fingernails dabbed in scarlet, inched ever closer.

No publication was spared. The New York Times cut 100 newsroom jobs. Time Inc., cut 600 and then, unsated, came back for more. At Condé, 180 souls were lost. Issues bleached on newsstands as replacements failed to arrive. Gone were Gourmet, Cookie, Elegant Bride, Modern Bride, Radar, Vibe, Portfolio, Blender, Home, Country Home, Metropolitan Home, O at Home, Cottage Living, Southern Accents, Hallmark, Best Life, Golf for Women, Travel + Leisure Golf, Domino, Teen, Cosmo Girl, Playgirl, Quick & Simple, Men's Vogue, PC Magazine.
Poof.
Graydon Carter was reduced to waiting in line in the Condé cafeteria—Frank Gehry's suddenly funereal Windex wonderland—an industry titan contemplating garlic-free stir-fry and make-your-own salads, trapezoidal tray in hand. Flower deliveries stopped cold. The devil could barely afford Prada.
Christmas parties were summarily canceled, dancing on graves having been deemed unseemly and expensive. Throughout the industry, a sobering sadness fell. Gone even were the days of schadenfreude; survivor's guilt was all that remained. There was talk, endless talk, about the future of the industry and how to adapt to the changing world. There were lessons to learn.
But then, ad sales bounced back. Companies started hiring again. Mr. Carter opened Monkey Bar. Things may not have been as lavish as they'd been in the glory days, but they were better. Better was the operative word—it made it possible to forget. A collective amnesia settled in. The storm was over, and the sunshine was so very pleasant. Yes, media is a shaky industry, people would ruefully acknowledge. The future is digital, that much was obvious. iPad apps became de rigueur, but the investment was halfhearted. Websites were relaunched, then re-relaunched, then more or less ignored.
Things are fine now, people said. Let's focus on the next deadline.
The reprieve has been sweet, but will it last? Lately there have been some uneasy rumblings, a disturbance in the Force, small but unmistakable indications that the past is catching up with us. The Daily, Rupert Murdoch's bold foray into the tablet future, laid off 50 a few months back. Condé Nast just let 60 staffers go after announcing that all its magazines needed to slash 5 percent from next year's budget. Most had already had to cut 10 percent over the summer. Hearst is reorganizing the shelter titles, but it's hard to take shelter anywhere when there are cracks in the foundation.
"We've gone through a period of treading water, but now it's crunch time, and there will be lots more of these," said Paul Armstrong, who writes the "The Media Is Dying" Twitter feed. Although Mr. Armstrong continued tweeting through the good times, his dispatches were mostly about innovation and other happy things. Now he is once again the angel of death.