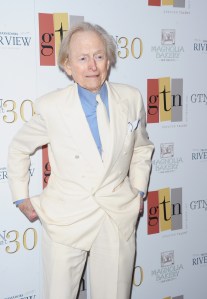 New York has an interview with Tom Wolfe, the author of the new, Miami-set book Back to Blood, which The Observer described this way: "the novel ensures that the world of ideas and of power dynamics, the only world in which Tom Wolfe feels comfortable, is one to which [racial minority characters are] not admitted." We did pick up a few nuggets that colored our opinion of Mr. Wolfe, though:
1. That hyperactive style of Mr. Wolfe's, with its repeated words and frequent onomatopoeia, is a holdover from writing for the New York Herald Tribune's Sunday supplement. "You get one chance with a Sunday supplement. People pick it up, look at one piece–that'll be yours–and throw it away. So I began to think up techniques."
2. The Bonfire of the Vanities was meant to be titled Vanity Fair, an homage to the satirical Thackeray novel.
3. Mr. Wolfe's home decor mirrors that which he used to mock as a young bomb-throwing journalist: "Two brass-monkey-man figurines hold up candles atop a fireplace. The walls of a nearby half-bath are 100 percent mirror, so that a standing visitor gazes into an infinite regression of marble sinks, cream toilets, and monogrammed towels."
4. He voted for Barack Obama in 2008, and George W. Bush in 2004 and 2000 (if we're interpreting his claim to have "voted for every winner" but Bill Clinton in 1992 correctly).
5. Very few of his friends are writers, and his favorite current writer is the financial journalist Michael Lewis.