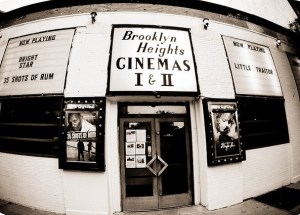 "We all live in the area, I'm 10 minutes away, so it just seemed like why not," Kenn Lowy said yesterday afternoon, sitting inside the small lobby of the Brooklyn Heights Cinema. This reporter had happened by two-screen indie theater in search of a sandwich while waiting out the storm at OEM HQ. Not even the bars were open, though the Chinese Restaurant and the Gristedes further up Henry Street were. The cinema had been showing movies there since 1971, and Mr. Lowy was not about to let something like a hurricane shut him down.
"We were open last year, for Hurricane Irene, and we got a lot of people in, so we figured we would do it again," he explained. "People get cooped up inside their houses, they get cabin fever, I think it's good to get out if you can. It's all locals, though, everybody's walking. We're not getting anybody from Park Slope. Nobody wants to get stranded."
Mr. Lowy, who was wearing a black t-shirt, jeans and black cowboy boots, said the streets had been mostly quiet save a few people out walking their dogs or scurrying home from some unknown errand. At one point during our brief conversation, a man, soaked through his clothes, long gray hair hanging every which way under a black ball cap, stuck his head in to ask if we knew of any open bars. Mr. Lowy did not, but directed the man to the beer cooler at the Gristedes.
"If you can stay open, I think it's smart, because you have a captive audience," Mr. Lowy continued. "I think people are really itching to get out, even if it's just for a quick bite. I bet the Chinese place is doing great."
The Master was showing in Theater 1, The Other Son was in Theater 2. Mr. Lowy said he expected to continue on through the 7 p.m. screenings. "After that, I think it probably won't be safe to be outside," he said. "I don't think I would want to be here, let alone have anyone else here."
There was a $3 hurricane special on cookies, which are normally $4.50. "I'll eat the rest if nobody buys them," Mr. Lowy joked. The concession case was half full with small, medium and large bags of popcorn, which were not on sale.
We stopped back in on the way to grab a cab at the car service up the street around 7:50, following the mayor's evening briefing. Mr. Lowy had cancelled the 7 o'clock Other Son show, in part because no one had come in, and he was waiting for The Master to wrap up before closing for the night. He said he expected to be open in time for the 3 p.m. show on Tuesday.
We have called a few times to see if they did indeed open, but there is only an unusual message from Verizon, which seems to suggest trouble with the phone line, not the theater. Something tells us Mr. Lowy made it to work today O.K.