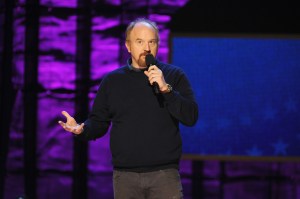 Stating that, "prejudice is entertainment, prejudice is fun," Louis CK stripped himself of any social standard for morality at the very beginning of his show at the New York City Center. On the second night of the New York leg of his national tour, one thing was made clear, Mr. CK's brash shtick is what he is, well, sticking with. In the HBO special Talking Funny (April 2012), Mr. CK told Jerry Seinfeld—who believed in rehashing old jokes that were a hit with the audience every time he tours—that people come to see the comedian and not some live re-run of an older show. The balding redhead trusted his audience enough to throw a completely new routine their way, and he did just that on the night of the 23rd. 
New York is the second stop of his 16-city tour, which will conclude on February 1, 2013, at the John F Kennedy Center of the Arts in Washington DC. Before heading to Portland, his next destination on the tour, the comedian will be making his hosting debut on Saturday Night Live on November 3. After the third season of Louie came to a finish last month, Mr. CK was granted a long hiatus by FX, the fourth season scheduled to air in 2014. Suspecting that Mr. CK's brand of self-deprecatory humor might be in short-supply next year, The Observer got a healthy dose of his new material as he rolled out another chapter of his unapologetic and incredibly obnoxious reflections on life.
On stage, the 45-year old appeared comfortable in his second skin—a faded, black t-shirt and brown, leather boat shoes, save one exception, the standard denims were traded for a pair of dark-chestnut pants. Engaging with a figment of his depraved imagination—which holds a mirror up to our basest, most perverse instincts—the audience forged a strong association with Mr. CK.  As the audience collapsed in laughter over an unconscionable world where parents have to clean up after murdering their children on sidewalks, and gifting a terminally-ill child a "great memory" (as part of the Make-A-Wish foundation endeavor) might not be as great an idea as it seems, Mr. CK reminded us of our complicity, "you guys just clapped and cheered for dead people."
Loosely stitched together with segues, his act veered from examining the male obsession with tits to shark fins, and President Nixon to old ladies. As he made his love of the latter known, Mr. CK wished he could bring himself to sexually desire an old lady, so that he could spend the rest "of her life" with her. The sketches were highlighted by delightfully vulgar phrasings and hilariously absurd coinages distinctive of CK. Like when he voiced the frustration of a tuna over a shark chomping down the tuna's new-born, "my wife was feeding you a baby right out of her pussy," or described the experience of watching a film in 3-D at an IMAX while high on pot, as jerking off his "eye-dicks."
While Mr. CK did touch on subjects that are a common feature in his routines, like the physical decrepitude that comes with aging ("my asshole's like a waist-band on old pajama bottoms"), he steered clear of parodying the dysfunctional nature of his relationship with his daughters, a theme his material used to heavily rely on.
As Mr. CK weaved in and out of his musings on life we took away some aphoristic gems—"divorce is a piece of oak, it gets stronger with time," "you get smarter through regret and self-hate." As with 'Louie,' which seems like some version of a modern-day tragicomedy, most of his material drew from existential crises and uncomfortable truths.
Responding to a rather drawn-out applause, Mr. CK obliged the audience with an encore. He closed with this idea of "competing thoughts" in a series of what he called, "of course, but maybe." Of the many examples he offered to support his theory, slavery was one. "Of course" slavery was wrong, "but maybe," a lot of great stuff (like the Egyptian pyramids), wouldn't have been accomplished if not for slaves. He ended that thought on a more conscientious note, speaking of sweat shops manufacturing smart phones in third world countries, "somebody, somewhere is suffering immeasurably so you can quickly post a mean comment online."
Mr. CK will be performing two shows a day at the New York City Center until October 28.