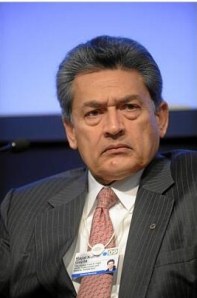 Rajat Gupta, the former chief executive officer of McKinsey & Co., was sentenced to two years imprisonment for insider trading this afternoon during a hearing presided over by Judge Jed Rakoff at the U.S. Southern District courthouse.
Mr. Gupta, who was convicted in May of using his position on the board of directors at Goldman Sachs to pass privileged information to Galleon Group hedge fund manager Raj Rajaratnam, has sought probation in lieu of imprisonment. The government recommended a jail term of eight to 10 years.
"With today's sentence, Rajat Gupta now must face the grave consequences of his crime," said U.S. Attorney Preet Bharara in an emailed statement. "His conduct has forever tarnished a once-sterling reputation that took years to cultivate. We hope that others who might consider breaking the securities laws will take heed from this sad occasion and choose not to follow in Mr. Gupta's footsteps."
In arguing for a lighter sentence, Mr. Gupta's attorney Gary P. Naftalis  reiterated his client's "extraordinary" philanthropic record, reading from letters written on behalf of the former corporate chieftain, and argued that Mr. Gupta's fall from grace was punishment enough for his crimes.
"He had one of the best reputations on the planet," said Mr. Naftalis at today's hearing, which The Observer attended from an upstairs spillover room at the downtown Manhattan courthouse. "His reputation was a lot more important than any amount of money could be."
Judge Rakoff acknowledged Mr. Gupta's humanitarian record, but said that insider trading was "easy to commit, hard to catch," and that the need for deterrent was strong.
The effect of Mr. Gupta's crime, said Judge Rakoff, was "to place in jeopardy the integrity of the marketplace, one of the greatest assets this country possesses."
Mr. Gupta is generally considered to be the most prominent figure to be convicted during the government's ongoing crackdown on insider trading, which has netted more than 70 convictions or guilty pleas over the last three years. Mr. Rajaratnam, the hedge fund manager at the hub of many of the Justice Department's recent insider trading cases, is currently serving an 11-year prison sentence.
Mr. Gupta was also fined $5 million.