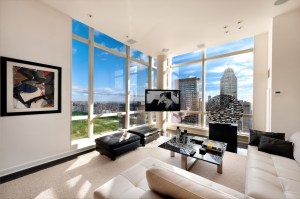 Charles Stiefel's life has had its share of ups and downs. First he made a fortune when GlaxoSmithKline bought his family's company for $2.9 billion. But then the S.E.C. closed in after employees claimed that the family had bilked them out of $110 million by hiding crucial information—including plans for the upcoming sale—as it bought their stocks back at extremely low prices. This spring Glaxo settled the first of what will likely be many employee buyback lawsuits for $1.5 million.
Not ones to wallow over a pending fraud case, Mr. Stiefel and wife Danee have apparently spent the last few months looking for apartments to spend some of their possibly ill-gotten gains on. Now, they're on top of the world again, or at least on the top of 230 West 56th Street, where they bought a penthouse apartment, "the apex of the prestigious Park Imperial Condominium" as the Nestseekers  listing held by Ryan Serhant and Nick Jabbour boasts.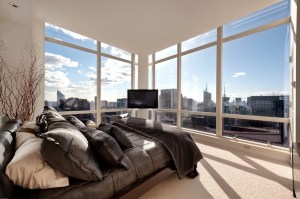 What's more, the $7 million that the couple paid for the three-bedroom, three-bath condo will hardly make a dent in the family fortune. We doubt that the Stiefels are even giving up their home in Pelham Manor, the address they list on the deed. Probably this is just a little pied-a-terre, albeit one with a high-end kitchen and amazing views from every window. And with Crestron home automation available in every room "moderating environment and ambiance," they'll have nearly scientific control over the place.
Even with all that cash floating around, though, the Stiefels were loathe to waste a cent. They bought the pad for $895,000 below the asking price. Still, seller Terry Johnson made out well. Having bought the place for $2.54 million back in 2003, he certainly saw his stock price go up.
kvelsey@observer.com