Tonight we bring you breaking news from 200 Central Park South, where a certain Fox News personality has purchased a two-bedroom, 2.5-bath co-op. Go to live shot: We're standing outside this 35-story tower famous for its wrap-around balconies and views of Central Park, which news correspondent and Fox & Friends First host Julie Banderas will enjoy from her apartment on a high-level floor.
Update: Although the sale only hit city records yesterday, a source tells us that Ms. Banderas purchased the unit some time ago. Additionally, the purchase price listed in the original story was incorrect. We regret the error.
Yes, according to city records, Ms. Banderas has purchased the unit for $2.38 million under her birth/married name, Julie Bidwell Sansome. Unlike some Fox & Friends personalities, Ms. Banderas has indicated with this most recent buy, that she is not quite ready for the suburbs yet. Moreover, she hails from Farmington, Conn., so perhaps her escape from the Nutmeg state is still fresh in Ms. Banderas' mind.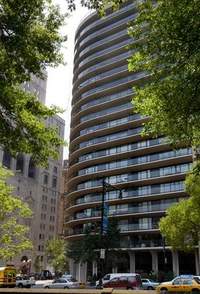 The apartment was not listed publicly, but we suppose Ms. Banderas used her investigative skills to suss out the truth—that it was for sale, or that owner Marilyn Carr was willing to sell. Ms. Carr had listed the place for $2.79 million back in 2009, then dropped the price six months later to $2.65 million.
Was $2.65 million a good deal? Apparently, Ms. Banderas didn't think so as she was said to have bargained down the price to $2.38 million. And who wouldn't be won over by that odd news anchor patois—so self-assured and authoritative, anxiety-producing and soothing all at the same time?
We assume that Ms. Banderas will be living in the apartment with her husband of three years and young daughter. There's a large living room with a sizable balcony, great views and huge closets—super important for a woman whose wardrobe is judged by conservatives across the country every morning.
kvelsey@observer.com