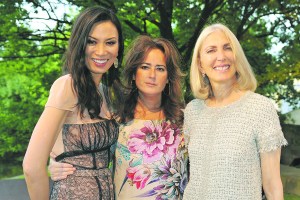 As Hurricane Sandy hurtled toward land, New Yorkers' preparations took a variety of forms. Some stocked up on essentials (lettuce, probiotics and Homeland); others simply worked through the worst of it, at least as long as the power stayed on. Whether barely scathed or hip-deep in water, New Yorkers of all stripes and circumstances tapped their intrepid spirits—and well-stocked liquor cabinets—to get through the Storm of the Century. Here's how they did it: 
Barbara Guggenheim, art consultant: I'm usually in Los Angeles, but I'm here in our apartment on Central Park South for a few weeks. Everyone in the building got the memo to close all our shades, but of course we have no shades. They also said they brought in extra staff. I would have thought they would let the staff go home! I made sure I had enough liquor and enough pasta. What can you do? You might as well just eat all the candy you want. It's the one time in life you can get away with it. I was amazed by who was closed and who was open. Starbucks was closed! Meanwhile, my hairdresser was open, which was strange.
Harry Blodget, editor: Stocked up on milk, Shredded Wheat and bananas, which I could live on for a month. Worked as usual, from home, along with the rest of the Business Insider team.
Bosco Sodi, artist: When I heard about the hurricane, I started taking precautions—buying sandbags, plastic, foam, wood. My main concern was the paintings lying in the floor waiting to dry, so all during Saturday and Sunday we had to cover all of them with plastic and move them as high as possible. After the hurricane, we tried to get back to the studio to see if we could do something else, but it was impossible to get through. The water had just covered Red Hook, all the way to Fairway. I stepped out of the car and decided to go in—water all the way up to my hips, cold as hell—but there was nothing else to do. I couldn't open my studio door, because if I opened it, more water would just get in.
Gary Shteyngart, author: I prepared by going to Toronto.
Peggy Siegal, publicist: I went to Citarella's on Third Avenue and 75th and stocked up on water and lettuce. Then I went to the Jets game and sat in Woody Johnson's box with Woody Allen, after setting up a photo of the two Woodys. Sunday morning, I realized that if I lost power, the lettuce would wilt and I would starve to death. So I went back to D'Agostino's on Lexington and 75th and found socialites Muffie Potter Aston and Sara Ayres, impeccably dressed and just as dazed and confused as me. Again, out of habit, I went for the perishable greens, until the two blond WASPs found the last two cans of tuna and the last dozen small memorial yahrzeit candles.
Bill Powers, art dealer: We had no phone service in the West Village. I had to use a pay phone. A pay phone! The guy in front of me, younger than me, was like, "How do I use this?"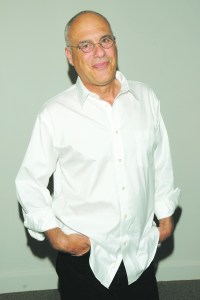 Mark Bittman, food columnist: I worked, edited photos, watched WCBS (something I never do!), made chapatis and dal.
Michael Grimm, Staten Island congressman: My staff set up a command post. Each staff member had a specific shelter they checked in with. We've been running pretty much like a military operation. Most of the staff at the shelters are volunteers, and they were incredible. Just the little things: at the Petrides School, they were about to cook pasta for everyone and the power went out. So myself and Assemblyman Michael Cusick called one of the diners I know, and they cooked up pasta for everybody. The power ended up coming back on later on, but at least everyone got fed.
Deborah Kass, painter: I wondered why, after the best weekend of my life I had to deal immediately with the storm of the century, shit from the Gowanus floating into my backyard and trees falling on my house!! Damn! … I was too high from the show to worry about the hurricane till about 4 in the morning when I shot out of bed and started taping plastic to the doors and fussing with the basement.
John Borthwick, tech CEO: My family and I bailed a foot of water out of my kitchen.
Jason Binn, publisher: We had to move out of our River Lofts in Tribeca, since we were in Zone A. We were thinking about going to the Hamptons, but we got in the cars and found out the storm was heading there. So we made a decision to turn back and stay with my dad on the Upper East Side. We're having a staycation.
R. Couri Hay, publicist: I told my employees to get on their galoshes and walk up to my space on the Upper West Side. Well, two out of the 20 made it. I tied down my garden chairs and furniture, and my totem pole, which I did by unraveling a rope placement and securing it. As for my other home, I told the caretakers to go to Southampton and play.