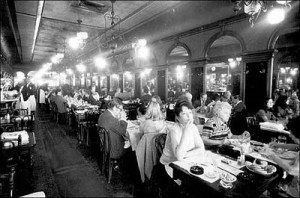 Landmarking might preserve a piece of history, but unfortunately it cannot stop time. And at Gage & Tollner, one of the few places in the city that is landmarked both inside and out, The Wall Street Journal has discovered a good example of a place that has kept its shell but lost its soul.
The esteemed old Southern restaurant, after having died, been revived and then remade into an Italian restaurant, a TGI Fridays and an Arby's is now a costume jewelry shop with bare bulbs and sparkling cheap things hung on pink panels that cover the spot's famed cherrywood and mirrors.The limitations of landmarking, while no great surprise, are an interesting subject given the very recent landmarking of the Rainbow Room. You can save the physical structure of a place but as the city changes around it, but you can't preserve the thing that made the physical structure worth saving in the first place.
In the case of Gage & Tollner, a place where the gaslights once flickered to life at six o'clock every night, and, as The Journal writes, the "oysters came Baltimore broiled, Chicago broiled, milk broiled, cream broiled, celery-cream broiled and broiled on toast," the neighborhood changed around it. Cars could no longer roll up to the door after a pedestrian plaza was added and a downturn in fortunes for the neighborhood meant the well-heeled no longer wanted to walk through it. The fashionable crowd moved on and the restaurant could no longer make the rent.
The building's recent makeover has gotten the jewelry store proprietor is in trouble with the Landmarks Preservation Commission—he making changes without permission and has not explained those changes satisfactorily to the Commission, but it's unclear if any of those changes actually violate the rules. And furthermore, there are no rules that can protect a building from an ugly renovation, so long as that renovation doesn't damage the underlying physical features.
"No restaurant guy was interested in a high rent," the store's clerk told The Journal. "So the owner got a jewelry guy to take over. You got the rent money, you do what you want."
kvelsey@observer.com