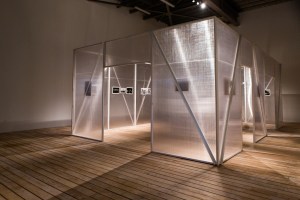 Tomorrow, the Garage Center for Contemporary Culture will launch a new temporary pavillion in Moscow's Gorky Park. Designed by Shigeru Ban, the structure is some 79,000 square feet, was designed by Shigeru Ban and will host exhibitions and educational programs until at least 2013.
From the press release:
"The first of these exhibitions, Temporary Structures in Gorky Park: From Melnikov to Ban, will inaugurate the space. Showing rare archival drawings – many of which have never been seen before – the exhibition will begin by revealing the profound history of structures created in the park since the site was first developed in 1923, before moving through the Russian avant-garde period to finish with some of the most interesting contemporary unrealized designs created by Russian architects today.

"The exhibition will include work by architects, including Konstantin Melnikov, Ivan Zholtovsky, Alexey Shchusev, Vyacheslav Oltarzhevsky, Alexander Vlasov, Fyodor Osipovich Schechtel, Vladimir Schuko, Panteleimon Golosov, Ilya Golosov and Moisei Ginzburg. Also represented will be the artists and sculptors who were involved in the decoration of temporary structures, including Aleksandra Ekster, Alexander Kuprin, Kuzma Petrov-Vodkin, Aristarkh Lentulov, Ignaty Nivinsky, Sergei Konenkov, Ivan Shadr and Vera Mukhina."
Needless to say, if you're in Moscow, you should stop by.