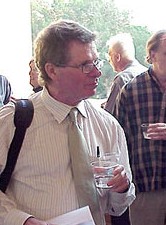 Timothy Potts, the director of the J. Paul Getty Museum, has announced two appointments. Dr. Thomas Kren has been named the associate director of collections and Dr. Elizabeth Morrison has been named senior curator of manuscripts.
Dr. Kren (not to be confused with Thomas Krens, the controversial 20-year director of the Guggenheim Museum who stepped down in 2008 and sold his Tribeca loft for $6.3 million last summer) first came to the Getty Museum in 1980.
Dr. Kren—no S—has since January 2010 been the acting associate director of collections. Before that he headed up the manuscripts department as senior curator, a position he held since the department's founding in 1984. Dr. Morrison likewise moves from her position as acting senior curator of manuscripts to the full-time post.
"In their interim capacities, both Thom and Beth have very ably demonstrated their ability to lead their respective areas, and I am delighted to announce their promotions to permanent positions in these roles," said Dr. Potts in a statement. "The growth of the collection is a key priority for the Getty Museum and I look forward to working more closely with Thom and all the curators on the expansion of our permanent collection and in exploring innovative ways to make it accessible to audiences internationally."
Congratulations to Dr. Kren and Dr. Morrison.