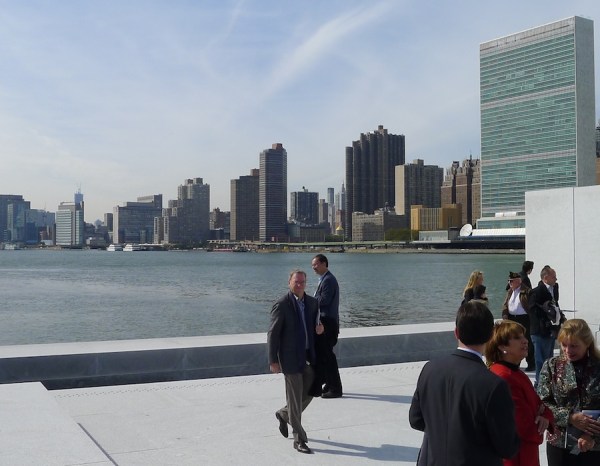 It wasn't all politicos and power brokers at the ribbon cutting for the FDR Four Freedoms Park gathered at the tip of Roosevelt Island earlier this week. Cornell had a strong showing, too, since their new tech campus will be the park's neighbor to the north within a few years. Cornell president and jockey David Skorton was there, and so was Eric Schmidt, the Google executive chairman who is serving on a three-man advisory panel for the campus.
Wearing a natty tweed blazer and jaunty blue scarf, Mr. Schmidt was wandering just south of the sloping lawn, near the massive bust of the 32nd president that is a centerpiece of the park, when The Observer caught up with him. "I would say first it's probably the most beautiful new public structures in America today, it's so visually arresting," Mr. Schmidt said. He thought is was a stunning space both to look at and to look out from.
It turns out Cornell was not the only reason for Mr. Schmidt to be on the island this lovely day. He is also a bit of a history buff, and he has a particular fondness for Franklin Roosevelt. "If you study FDR, he embodies the principles of America in a way that is for time immemorial," Mr. Schmidt explained. "I've been using his Four Freedoms in my speeches for a while, because if you study it, it's hard to understand in the context of what it represented in America at the time, but the ideas are remarkable and enduring. We face similar challenges today, to religious tolerance, freedom, etc. In many way, it's more applicable today then before."
So this may be a great space for the city, and for the entire nation, but it will also be a huge amenity for the new tech campus, as well. "If you think about it from the Cornell New York Tech perspective, this is sort of our neighbor," Mr. Schmidt said. "For the quality life of the students, just think of what this represents."
With so much going on on the island, the park, the school, maybe a water taxi dock, some new housing to the north at some point, what does the future hold? "It'll be more gentrified, it will be more upscale," Mr. Schmidt admitted.
Is that a good thing?
"It is the nature of New York," he responded. "Roosevelt Island will become a premier destination. Simply because of the sum of everything, the park, the new development, the residential, this will become one of those places everyone wants to be."
And you know that's the truth. After all, it comes straight from the mouth of Google.