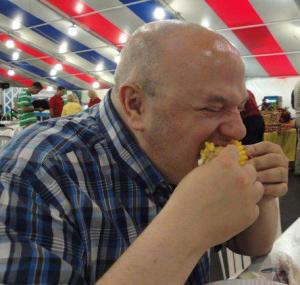 John Featherman, the underdog Republican nominee running against Rep. Bob Brady in Pennsylvania's first congressional district has released a new ad online calling his rival "a dog" and accusing him of backing allies indulging in scandalous behavior including spending taxpayer dollars at strip clubs. The ad, which is entitled "My Dog, Bob Brady,"  begins with a scene at the Philadelphia "foreign student program" where a woman with an unspecified foreign accent asks another woman for help coming up with an "American name" for her new Yorkshire Terrier. The other woman suggests the dog owner name her Yorkie "Bob Brady" because he's "one of the worst congressmen ever" and "a dog."
In the ad, the woman continues to explain that "Boss Brady gets people elected in the city council and statehouse" where they "hot dog around." To illustrate this, the ad shows shots of a man approaching a scantily clad woman in a bar and a pair of cigar smoking men in suits ogling a dancing stripper.
"Bob Brady's been a big dog in government for a long time and his party's lapdance loving lapdogs are having a doggone good time wasting taxpayer dollars," the woman says.
"I'm a democratic party boss here in Philly, so the cash comes with the job!" one of the cigar smokers happily exclaims to the dancer shimmying in front of him.
Mr. Featherman, whom the folks over at PoliticsPA describe as a "perennial protest candidate" has a history of releasing provocative campaign ads. The stripper scene is taken from an ad he released in May of last year. His latest ad finishes with a shot of an elderly naked woman kissing a framed photo of Mr. Brady, which is from another ad he put out in March that featured the nude woman giving voters the "naked truth" about Mr. Brady.
Despite his provocative videos, Mr. Featherman is a longshot to defeat Mr. Brady, who has served in the House of Representatives since 1999 and never taken less than 85 percent of the vote in a general election. Based on the latest campaign finance reports, Mr. Brady also has $771,174 in his campaign war chest compared to Mr. Featherman's $2,375. Mr. Featherman's website identifies him as a real estate agent and "elected Republican committeeman" in Philadelphia's Chinatown neighborhood.
Watch Mr. Featherman's new ad below.
[youtube http://www.youtube.com/watch?v=N9jIF29Jtzk]