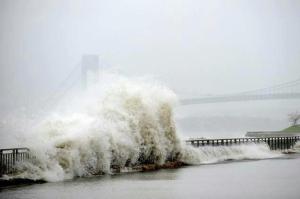 Governor Andrew Cuomo, on his whirlwind tour of New York State, touched down in Long Island this evening to announce a number of bridge closures, the National Guard being called up, and the continued danger of, as he put it, "Sandy's Fury." Notably, as of 7 p.m. tonight, the Verrazano-Narrows, George Washington, Henry Hudson, Bronx-Whitestone and Throgs Neck bridges will be closed, joining the Tappan Zee Bridge and Cross Bay Veterans Bridge, which shut down earlier today.
"We have another 1,000 National Guard who have been called up, and they, in so many ways provide the energy, the muscle if you will, to do many of these operations ," the governor said. "The majority of those National Guard will be deployed on Long Island. As the issue becomes more and more the coastal surge, Long Island becomes more and more vulnerable."
Mr. Cuomo also updated New Yorkers on the storm's overall status.
"The storm is basically as expected thus far," he said. "We said it was going to be a lot of wind, a lot of rain, and that was what was forecasted and that's exactly what we've gotten and more. The 'Sandy's Fury' is still going to come this evening. Originally it was supposed to be about 8 o'clock, that has now been moved up and it could now be as early as 6 o'clock where we're going to start to feel the full impact of the high tide. That gives people a very short window…until we really feel the full impact of 'Sandy's Fury,' and this is probably the last warning that we're going to be able to give people about getting themselves to a safe place."