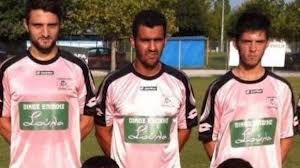 We've often observed that as the European debt crises stretches on (and on), and rising sovereign borrowing costs lead to bailout plans and austerity programs, leading the people to protest slashed government spending and government officials to protest that they don't really need rescue funds, the average beat reporter is going to need a little something extra to keep his editor interested. Whether that means a story about coffee consumption or the mating habits of unemployed youth, you get the picture: At this point in the crisis, it takes a little extra pizzaz to get your lay reader interested in anything involving downtrodden European economies.Thus, word from the Associated Press today that the Voukefalas amateur soccer club has turned to a pair of brothels to replace funding formerly provided by the government:
Players on a cash-strapped Greek soccer team now wear pink practice jerseys with the logos "Villa Erotica" and "Soula's House of History," two bordellos it recruited as sponsors after drastic government spending cuts left the country's sports clubs facing ruin. Other teams have also turned to unconventional financing. One has a deal with a local funeral home and others have wooed kebab shops, a jam factory and producers of Greece's trademark feta cheese. … Prostitution is legal in Greece, where brothels operate under strict guidelines. Though garish neon signs advertising their services are tolerated, the soccer sponsorship has ruffled some feathers in the sports-mad city of Larissa. League organizers have banned the pink jerseys during games, saying the deal violates "the sporting ideal" and is inappropriate for underage fans.
Meanwhile, Greek leaders are preparing a new program of spending cuts in view of securing the next installment of European aid, without which the government will run out of cash as soon as next month. In light of which uncertainty, we can probably say no more than that the brothels have kept Voukefalas in action … for now.