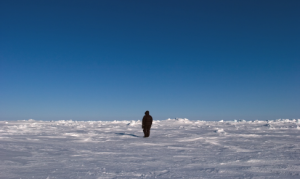 Dutch artist Guido van der Werve is next up at High Line's Channel 14 venue, the section of the park spanning West 14th Street where High Line Art has been screening outdoor video projections since this past summer. Previous screenings have included work by John Cage and Cinthia Marcelle, whose piece is still on view. Mr. van der Werve's contribution, his video Nummer negen—The Day I Didn't Turn With the World (2007)—will be the third project at the site. Beginning Nov. 1, it will be on view daily from 5 p.m. to  10 p.m.
The 9-minute video, which was filmed on the stark expansive landscape of the North Pole, shows the artist slowly turning in the opposite direction to the earth's rotation while music composed by the artist (he's also a classically trained musician) plays in the background. Mr. van de Werve's most recent film, Nummer veertien, home (2012), also featured barren landscapes, tests of endurance and classical music, showing him completing an almost 1,200-mile triathlon from Warsaw to Paris, accompanied by a requiem he composed.
"Guido's video is a contemporary update on the tradition of romantic landscape paintings," said High Line Art director Cecilia Alemani in a statement. "Just like in a beautiful 19th-century painting by Caspar David Friedrich, the individual is immersed in a sublime landscape, desperately trying to find his place in the universe."
Seems like a good match for the enchanted elevated park that runs above Chelsea.