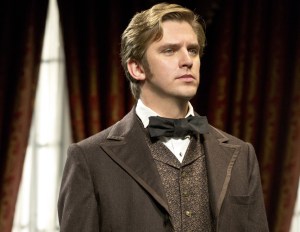 It was February when we first met up with Dan Stevens. He was standing in a wet, muddy field in Cornwall in southern England, delighting a group of extras with an exaggerated American accent. The actor was between takes on Summer in February, an indie film he was producingand starring in, about a 19th-century English artists' commune.
Mr. Stevens was tired. He'd been rattling between Cornwall and London while shooting the third season of Downton Abbey (currently airing in the U.K., but not due out here until January), in which he plays the excruciatingly eligible Matthew Crawley, heir apparent to the old English estate. It is his career-defining role, and the breakout success of the show over the past few years has opened a number of doors on both sides of the Atlantic. He says it's been the most productive period of his life, and the variety of his ventures that is truly impressive.
First there is the Man Booker, Britain's most prestigious literary prize, which was last week awarded to Hilary Mantel's sequel Bring Up The Bodies. While appearing on BBC's The Review Show in 2011, Mr. Stevens launched into a scathing diatribe about the "readability" requirement for that year's competition winner. A couple of weeks later, he received a phone call from Sir Peter Stothard (this year's chairman) inviting him to be on the 2012 panel. This was, of course, "a privilege," he said, but reading 145 novels in seven months, then rereading the longlist and rere-reading the shortlist is quite an "added strain" for someone with a day job. Between almost every take in the new series of Downton, he would force his waythrough a few more paragraphs of literary fiction. The costume department even sewed a Kindle-size pocket into his jacket for efficiency's sake.
Along with diligently working toward the eventual completion of Summer in February (a seven-year process, so far), he is starring in Vamps, a romantic comedy by Amy Heckerling of Clueless fame, in which he plays Joey Van Helsing (the son of the notorious Dracula character), a young man who falls in love with a bloodsucker, much to the ire of his stake-wielding father, played by Wallace Shawn. "You think everyone is a vampire!" he complains to his dad at one point. The film is due out 24 hours after he makes his full Broadway debut.
Meanwhile, in his free time, Mr. Stevens launched his own online literary quarterly, The Junket, which he put together with a group of Cambridge friends who wanted an outlet for their writing. In his role as editor at large, Mr. Stevens "sharpened his pencil" for only one piece, a witty essay about the boredom of being on safari until you get the taste for blood.
Now he's here on Broadway, playing the lead in The Heiress, the Tony Award-winning adaptation by Ruth and Augustus Goetz of the Henry James novel Washington Square. It'sa play that periodically returns to town for a limited run of sell-out shows, and this will be no exception. Particularly in light of the caliber of talent in the cast. Oscar-nominated Jessica Chastain and David Strathairn play a wealthy father and daughter, and Mr. Stevens is the canny suitor. (Sound familiar?)
Recently, sitting across the table at Cafe Edison in Midtown, dressed like an English country gent (tweed jacket, white shirt, tweed cap), he seemed invigorated by the challenge."This feels big," he said, picking up his coffee with both hands. "Uprooting the family and coming here has been a sort of seismic shift." He has packed up his house in London and moved everyone—including his 2-month-old son, Aubrey, 2-year-old daughter, Willow, and wife of four years, jazz singer Susie Hariet, who is seven years his senior—across the water. It seems a little drastic for a brief stint on Broadway, but the family was eager to travel.
The quiet, soft-spoken Ms. Hariet had also been in Cornwall for the filming of Summer in February, and was remarkable source of tranquility on the set. It was striking how comfortable the two of them were in what must have been an otherwise complicated situation—what with her husband swiftly becoming a trans-Atlantic heartthrob, and all. Frequently, Ms. Hariet, then pregnant, would stand off to one side with her daughter and watch her spouse perform steamily romantic scenes, one take after another.
Hey, that's showbiz.
The opportunity to star in The Heiress came along unexpectedly. "We weren't necessarily thinking of doing a play," Mr. Stevens recalled over eggs benedict. The first-person plural he casually employs refers to his wider family: a group of agents and PR-types who, over the last few years, have made a series of important decisions about his career's "direction." They are a tight, highly professional group of people (who are eager to walk with you through every step of writing a profile of him), only a few of whom are based in the U.K. This may give some idea as to the ambitions of Team Stevens, given that, up until a few months ago, the actor was solely working out of England. It also may give a clue as to whether he's likely to continue in Downton Abbey, season four—if indeed there is one.
"I think the bar for fulfillment has been raised," Mr. Stevens said enigmatically when asked about his swiftly evolving professional ambitions. "There's a certain kind of project I'm looking for now."
In other words, Perhap$ …
On Broadway, the role of Morris—opposite Ms. Chastain's Catherine Sloper—is the sort that comes easily to the 30-year-old actor: wealthy, charming and attractive, but with an egotistical complexity that Mr. Stevens may find more challenging. "It's a character you really have to get your head around,"he said. And then there's that 19th-century New York accent.
In recent years, American audiences have embraced a line of British actors who have trained in England and taken the leap from stage to small screen while employing a trim American accent to their advantage. Most notably we've seen Hugh Laurie's House, Dominic West in The Wire and Damian Lewis in Homeland.
These are three names that regularly came up over our breakfast.
"It's industry legend that no American actor wanted to take it on because House had no redeeming qualities … which is precisely why a British actor would take it on!" Mr. Stevens said, laughing into his coffee. "But doors are open over here that aren't necessarily open back home. It's very heartening to see those sort of guys do well."