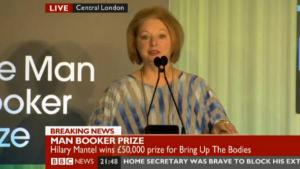 Hilary Mantel has won the Man Booker Prize for fiction for Bring up the Bodies. The award was announced today during a dinner ceremony at London's medieval Guildhall.
"You wait 20 years for a Booker Prize and two come along at once," Ms. Mantel said, when accepting the award. Ms. Mantel won the prize for Wolf Hall in 2009. Bring up the Bodies is a sequel to Wolf Hall, which is something that the judges are hesitant to do, according to the  broadcasters we were listening to on the BBC Livestream. 
Ms. Mantel will receive £50,000 (which  is $80,500, according to the Internet), in addition to the £2,500 that went to all six shortlisted writers. Will Self had been a rumored favorite for his novel, Umbrella (which we are now pronouncing in a British accent in our head).
The judging panel includes Times Literary Supplement editor Peter Stothard and middle-class Manchester solicitor-turned heir to Downton Abbey, Matthew Crowley (the actor Dan Stevens).