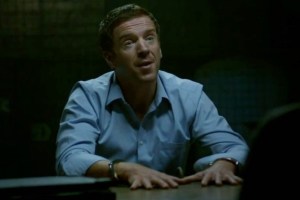 These questions regard the second season premiere of Showtime's Homeland. Please answer the prompts with specific examples from SUNDAY'S EPISODE, though supplementary material will be accepted as a secondary source. Please write legibly. No. 2 pencils only. You have an hour to finish this test. See below for questions and sample responses.
1. The title of this episode is "Q&A," and it is primarily taken up by an interrogation sequence. Compare this interrogation with one of the many famous scenes of interrogation in literature or film (e.g. King Lear, The Birthday Party, Marathon Man). How does Quinn/Carrie's line of questioning line up against the classics?

Obviously, the good cop/bad cop interrogation trope is one of the most famous tv/movie techniques used, and this episode did it extremely well. How does it stack up to other versions of this idea? Well, I feel like if you combine these two clips, you get last night's episode:
[protected-iframe id="37b2f7e109e254ecfc0838249d6ab4f4-35584880-35147716″ info="http://www.nbc.com/assets/video/widget/widget.html?vid=1351171″ width="560″ height="315″ frameborder="0″]
2. When Carrie gives Brody water, she makes him dependent on her, bringing it up to his mouth, even though she is just about to unlock his cuffs. We've seen this same manipulative technique before, with Nazir. Does Carrie acknowledge this similarity? Conversely, when Quinn mentions that Nazir tortured Brody with electricity, it calls to mind Carrie's ECT, for which Brody is indirectly to blame. How do these echoes influence our understanding and appreciation of the interrogation scenes?
We saw how Carrie reacted to the ECT question the first time: I think Quinn's whole plan was to manipulate Carrie into feeling those ole' Brody-obsessive feelings. When Quinn brings it up, it's not to bristle her, it's to remind her that Brody and her share the same traumas. When Quinn stabs Brody, Carrie doesn't come in as the "Good Cop," because she would never be able to fake something like that, especially after harboring so much rage against him. He was stabbed, and Carrie went into overdrive. Her reflexes were maternal, protective. (Hence the water thing.) He was physically vulnerable, but could still withstand interrogation techniques. What his Abu Nazir brainwash couldn't clean out entirely was real compassion. The "I've been there, and I know who you are, and I love you anyway" that Carrie brought to the table.

3. Various events work out very conveniently in this episode. Rank the following in order from most to least likely: 1) Just when he needs to play "bad cop," Quinn has the best "good cop" he could ask for, preloaded and ready to go; 2) Dana's boyfriend Xander disappears in a puff of offscreen smoke, leaving the road open for Finn; 3) Brody suddenly finds himself able to tell Jessica (a version of) the truth when she demands it outright; 4) after being almost entirely absent for the entire season, Chris returns for long enough to remind us that the Brodys have a son, right before Nick admits that he thought of Aysa as his own child; 5) Brody's chief of staff is too dumb to ask Estes too many questions.
1.) Xander: High school boyfriends evaporate all the time. Sometimes they are run over by the VP's son. Sometimes they are abducted and held in a CIA torture camp. Sometimes they go up to cabins and have a double-crossed affair. You know, shit happens.
2.) Brody tells Jessica he works for the CIA: It's almost weird that he didn't try that line earlier … he could have explained away the Carrie affair that much easier. And it's not like Jessica can check in with her contacts at Langley to make sure he's not lying.
3.) Quinn having Carrie as an interrogator: Well, that's not a coincidence. Carrie is the only reason anyone was even paying attention to Brody. She shot, tagged, and bagged that son of a bitch. The only thing that's unlikely is that Quinn happens to read people so well that he knew that his tricks would work. He's basically Abu Nazir using Carrie as Aysa.
4) Brody's chief of staff being a dumbass: Well, is he dumb, or scared shitless? When the CIA tells you that your boss is in trouble and hints that you might be next, you don't ask questions. Though he is dumb enough to seem as equally scared of Jessica as Estes. Grow a pair, you know.
5.) Chris showing back up: The most unlikely of the bunch, but only because they seem to have replaced Chris with a much older actor, who actually seemed to age as the episode progressed.

4. Dana ducks involuntarily when Finn drives his car under a low overhang. This reaction is known as an "escape reflex" or more specifically, a "withdrawal reflex." How do other characters display reflexes that might be characterized as "escape" or "withdrawal"?
1.) Brody flinching when Carrie tries to touch his hand.
2.) Dana completely shutting down mentally after the car accident.
3.) Mike. Mike is Jessica's escape reflex, especially since he doesn't have enough of a personality to be a person.
4. VP's son turning from a three-dimensional character into every stereotype of a hit-and-run perp. "LEAVE THE BODY! OH MAN, MY DAD IS GOING TO KILL ME! DON'T YOU KNOW WHO I AM?" Shit is so hackneyed.
5. In this episode, the word "monster" is thrown around a bit. Was this Homeland's version of a Halloween episode? (Questions to consider: Why is Brody still hiding two murders after being given immunity? Is it possible that, like Walker before him, Aysa is still alive?)
Well, Aysa isn't alive … Brody carried his body out of the rubble and had it shrouded. I know he "saw" Walker die too, but kid would have to be a pretty good actor to fake being dead in front of Brody for a couple of days. The monster analogy is interesting, because it's actually Brody and Carrie who are the archetypal "monster" figures: She's like an emotional vampire, and he's like Dr. Jeckyl and Mr. Dead-Eyed Neck-Snapper.