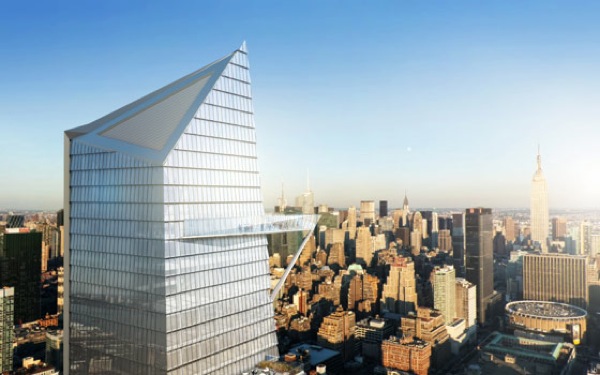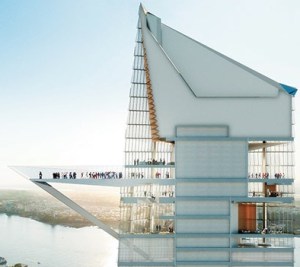 Earlier this week, the Related Companies announced it had found backers to begin building the first tower of its Hudson Yards project (at the same time that it is trying to get a break from the MTA for payments on the entire 16-acre complex). Should the project get off the ground, it will have a long way to go.
Sure, in terms of time, as it will takes years, if not decades, for the entire 12 million square feet of office, residential, retail and cultural space to be built. But there is also a long way to go in terms of distance. As the design team puts the finishing touches on the first phase of the project, it turns out the other office tower on the site, which has yet to find an anchor tenant or an announced start date, will become the second or third tallest building in the city when it is completed, surpassing the Empire State Building.
At 1,300 feet, the tallest of the Hudson Yards towers (designed by KPF) will fall just short of 1 World Trade Center (sans antenna, er, spire) and the even taller 432 Park, CIM and Harry Macklowe's new luxury tower at the corner of 57th Street and Park Avenue, which reaches a spindly 1,397 feet into the skyline.
But this is not the only place where Hudson Yards will surpass the Empire State Building. It will also boast both a observation areas closer to heaven than at the Empire State Building, both indoors and out.
Perhaps you noticed an unusual shard jutting out from the side of the tallest tower in the latest set of renderings, first revealed a few weeks ago in New York magazine? That is an open-air observation deck located at 1,100 feet. That puts it 50 feet above the Empire State Building's famous outdoor terrace, that iconic movie set and marriage proposal destination.
And above Hudson Yard's outdoor observation space will be a veritable playland of attractions reaching to the top of the tower, and by extension beyond the Empire State Building's topmost observation room, at 1,250 feet, the place where zeppelins were once meant to dock.
"It's more akin to the Rainbow Room to be honest," Related spokeswoman Joanna Rose explained. "We have a ballroom, restaurant and bars above the observation deck that offer panoramic views. And yes, we are looking at locating some of those above the 1250 mark."
They are just going after all the landmarks—not just the Empire State Building but Rockefeller Center, too. And it will be hard to compete, since as previously reported, that master of hospitality Danny Meyer will be running the show way up in the clouds.