Hurricane Sandy has been demonstrating her considerable power all afternoon, but perhaps no show of strength was more impressive than her ability to roust the hot dog vendor who has been parked outside the Beresford for a number of months.
The vendor, who has withstood numerous legal challenges from the Beresford's lawyer, finally caved as the hurricane battered his corner across from Central Park, at least according to a tweet from Beresford resident and architecture critic Paul Goldberger: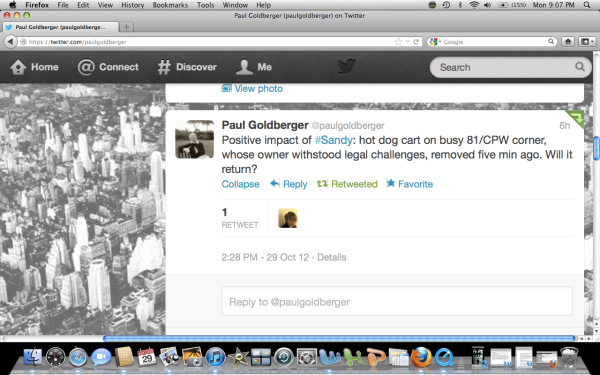 Residents in the quadra-towered luxury building have been scowling at the vendor since he set up his cart in front of their building earlier this year. The smells, the noise of the generator, the mustard spilling on the sidewalk. But the city refused to oust the vendor, who has a valid permit, and like any other vendor, is permitted to operate anywhere he wishes, so long as it does not interfere with safety.
Still, it looks like the storm finally drove the vendor away from the lofty corner, delighting Mr. Goldberger, who has been watching these things carefully. But only time will tell if he returns (we're guessing he comes back as soon as the subways come back to life.
kvelsey@observer.com