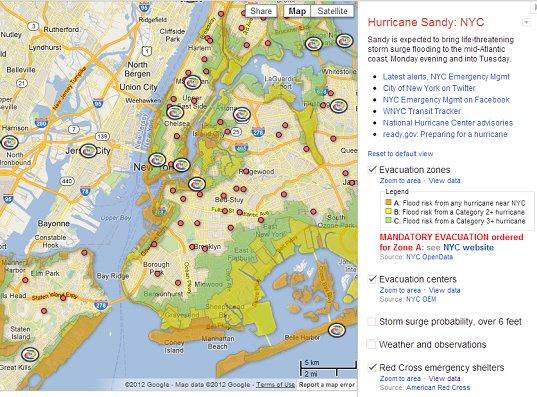 Mayor Bloomberg's office has teamed with Google (GOOGL) to create Hurricane Sandy: NYC. It's a handy "crisis" map that links to the latest N.Y.C. Emergency Management alerts, various city-related Twitter accounts and advisories about Hurricane Sandy from the National Hurricane Center.
Residents may be particularly interested in the map's color-coded evacuation zones–currently Zone A is under a mandatory evacuation order.
Here are Google's tips on how to best use the map:
Zoom the map using either the on-screen controls or your mouse.
Find additional layers in the Layers list, where you can turn them on or off. Scroll to see all layers.
Zoom to an appropriate view for each layer by clicking the "Zoom to area" links in the Layers list.
View selected layers in Google Earth by clicking the "Download KML" links in the Layers list.
Share the map in e-mail by clicking the Share button and copying the URL provided there. The URL will restore your current view, including the set of layers that you have turned on.
Embed the map on your website or blog by getting a snippet of HTML code from the Share button.
Share the link on Google+, Twitter or Facebook by clicking the appropriate button in the Share window.
We've embedded the map below.
[protected-iframe id="0ea710f8b83009624b60d0a5121fc720-35584880-35923819″ info="http://google.org/crisismap/2012-sandy-nyc?hl=en&llbox=40.8491%2C40.5325%2C-73.7895%2C-74.5167&t=roadmap&layers=layer1%2Clayer0%2C8%2C9%2C1330918331511%2C5&promoted&embedded=true" width="400″ height="400″]