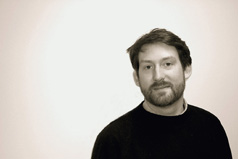 The Frances Young Tang Teaching Museum and Art Gallery at Skidmore College, in Saratoga Springs, N.Y., has named Ian Berry as its new director, The Business Review reports. Thanks to Artforum for the tip. The position is being vacated by John Weber, who has been tapped to be the founding director at the Institute of the Arts and Sciences at the University of California at Santa Cruz.
Mr. Berry is being promoted from within. He has been with the Tang since 2000, when he started there as the founding curator, The Review reports. He's currently curator and associate director of curatorial affairs. He's also something of an Upstate New York veteran, having graduated from the Center for Curatorial Studies at Bard College in Annandale, N.Y.
There's a lot on view at the Tang at the moment! Among the current offerings are a group show called "We the People," about "constitutions and how they act to create order, configure communities, and form a collective identity" and a solo show by Terry Adkins. Its full slate of exhibitions is available here.
Congratulations to Mr. Berry on the new position.